Taking a look at what might be available to help the Penguins come trade deadline day:
One of the most important factors in how far the Penguins might go in their quest for the Cup this year surprisingly has very little to do with the team itself but with the Calgary Flames.
Mikka Kiprusoff, the longtime Calgary netminder, went down with the dreaded Lower Body Injury during Tuesday night's game. So far, Flames management isn't saying how serious the injury is. The one thing Calgary has never done is find a suitable back up as Mikka was always good for 70+ games per season. This is a team that was pretty much near the bottom of the standings with him healthy, and I can't even begin to think how far they will fall if he is out long term. What does this have to do with the Pens, you ask?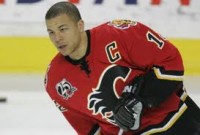 Jerome Iginla. He is pretty much near the end of his career and would love to win a Cup before he retires. He has a no trade clause which gives him the ability to choose who he can and can't be traded to. I have to believe if the Pens are in the hunt come trade deadline time, that Pittsburgh would be a great destination for Iggy. The question is, what would the Penguins have to give up in order to get him?
The first person that says Paul Martin should probably be banned from the site for a year. Let's hear some honest choices folks. Before just throwing names out there, why not go and check out the Flames roster and see what they might need before saying Craig Adams.