While Penguins goaltender Marc-André Fleury has rightfully bore the brunt of the load for last nights loss.  The puck doesn't stop there.  Literally and figuratively.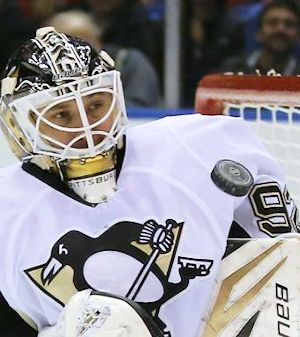 Penguins coach Dan Bylsma sat before reporters last night and was asked ".. is there any thought to putting Vokoun in for game five?"  After he him-hawed around for 5 minutes and proceeded to list every goal Fleury let in and mentioning how Fleury managed to let them in on so few amount of shots, Bylsma somehow avoided the question.  Or so he thought.
A second later he was asked again. "Any thought to a change of goalie?"
"Certainly you know a Thomas Vokoun's a guy that can step in and play and has had success.." Bylsma proceeded with his spiel "and won hockey games against this team (Islanders) and has been successful this year.."  He continued to avoid the question again, but everyone had heard what they needed to hear.
I have heard Bylsma's "spiels" for years now.  Barring injury, Thomas Vokoun will be in net on Thursday night in Pittsburgh.  Thomas Vokoun has had an incredible record against the Islanders this season only allowing 3 goals on 101 shots.  That's .970 save percentage.  It wouldn't be out of the question to ask why he wasn't in net to begin with.
Changing the goaltender is only a stop gap measure for a laundry list of problems the Penguins are having. If it's all right with you I'm going to rattle them off.
The Penguins defense is playing way too soft.  It's not that they're not hitting.  Watch when the Islanders stream into the Penguins end of the ice.  The Penguins defense is not challenging them until they are at the top of the circles in the defensive end.  By then the Islanders are close enough to get off quality shots and quick rebounds.  The Islanders forwards must be challenged sooner.
The Penguins can't get the puck out of their own end.  Orpik, Letang and Malkin all had easy plays out and all three tried to force passes out that ended up getting intercepted and resulted in Islanders goals.  Malkin's was especially noticeable because he had an extremely easy bounce pass up the boards.  It's time to go back to the basics.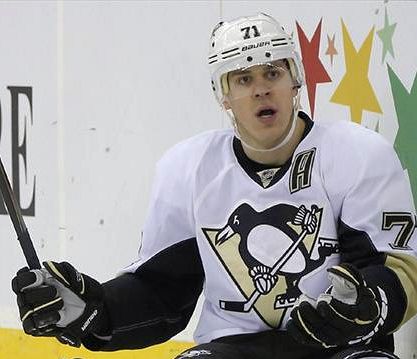 Malkin, Malkin, Malkin.  It's all about Malkin.  He needs to control his emotions.  One of the stupid penalties he took resulted in a powerplay goal for the Islanders.  While he's tied for the lead scorer in the playoffs, he must be better emotionally.  Which by the way I have a way to fix that I will be exploring on PenguinPoop toMorrow.
It's not just Malkin.  The Penguins are skating like they should automatically be handed the Stanley Cup. They have fallen for the hype.  They have drunken the proverbial Kool Aid. You have three seasoned Captains on this team.  Crosby, Iginla & Morrow.  You also have 3 assistant Captains, Orpik, Kunitz & Malkin.  All six of these guys should be leading by example.
I'm saving the worst for last.  Prevent defense.  Two words that should never be allowed side by side in Pittsburgh.  It has never worked.  Never, never ever.  Using a phrase like "the best defense is a good offense" has worked and will work.  The Penguins have their best defensive forwards sitting in the press box.  Kennedy & Vitale.  If your not playing them, you can't go into a prevent.  This is Bylsma's responsibility & problem to fix.
Look at the goals scored last night.  Letang tipped one in top shelf, one tipped in off Murray's skate, 3 really stupid outlet passes and a idiotic Matt Cooke Penalty.  Fleury's horrid play in net is not the only reason the Penguins lost.
The Penguins organization and 95% of Penguin's fans plus the 5% who are lying have underestimated the Islanders.  Hopefully the Penguins can right the ship of what is now a 3 game series before it sinks.