They say confession is good for the soul. If so, I must confess here and now that this isn't my favorite Penguins team. I think they're too small. They lack defensive structure, especially in their own end. And coach Dan Bylsma seems rigidly resistant to making meaningful adjustments.
Still, I couldn't be more proud of our boys for the way they stormed back on March 7 to snatch a 5-4 victory over the Flyers from the jaws of certain defeat. It took a ton of heart to come back the way they did, especially after committing their usual myriad of sins (lousy defensive coverage, dumb penalties, leaky goaltending) during a horrific first period.
Instead of crumbling in the face of a 4-1 deficit, the black and gold steadied themselves and chipped away at Philly's seemingly insurmountable lead with equal parts discipline and determination. Leading the cavalry charge was the game's finest player, Sidney Crosby (3 assists), and gritty Chris Kunitz (2 goals), who is proving to be a revelation as Sid's triggerman.
More importantly, the victory may have signified the team's coming of age. During last spring's ghastly first-round loss to these very same Flyers, the Pens foundered like a rudderless ship at sea. Perhaps Crosby and the other "kids" are finally ready to fill the leadership vacuum created by the departure of sage veterans like Bill Guerin and Sergei Gonchar, who played vital roles during the 2009 Cup run.
Who knows? With a little judicious reupholstering from GM Ray Shero (a rugged defenseman and a physical forward with a scoring touch would help) these Penguins just might be ready to prove the Vegas oddsmakers right.
*Be sure to check out Rick Buker's books,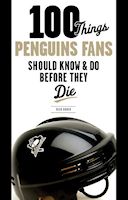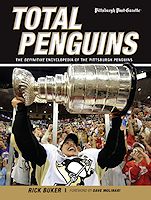 available at TriumphBooks.com, Amazon.com, and BarnesandNoble.com