Penguins coach Dan Bylsma lost the game last night.  It wasn't a bad play, it wasn't a better team, it's wasn't poor play by his team, it wasn't the drop play that Bylsma kept referring to in his post game interview.
It was bad coaching.
It is 100% Dan Bylsma's inability to go for the kill is what lost last night's double overtime game against the Ottawa Senators.  It is not just the matter of the one game.  It's what could have been a 3-0 series with Ottawa's hope decimated is now a 2-1 series with Ottawa having the momentum swing in their favor.
You would think after losing a game to the Islanders using the same prevent defense plan the Dan Bylsma would have learned his lesson.   In his post game interview Bylsma said   "We went to a possession powerplay there with the time".   He also mentioned the powerplay line was mid change.  It was obvious that he didn't get the full line change he wanted and perhaps Evgeni Malkin didn't change like he was supposed to.  That is not what allowed Ottawa to to tie the game up with seconds left in the game.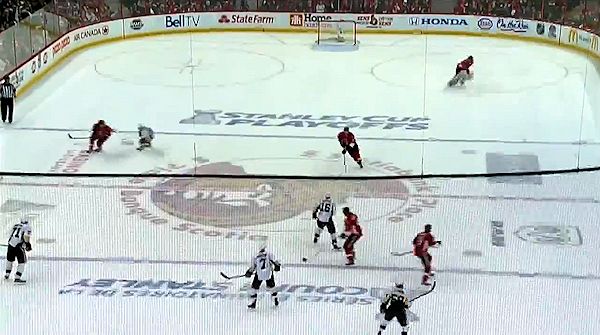 Bylsma may have been trying to get possession players on the ice, but it wasn't a "Possession Powerplay"  it was a "Prevent Powerplay".  It was the one guy pressuring 4 guys dropping back all the way to the defensive zone game plan that allowed Ottawa to skate with speed right into the Penguins zone and score.
If the Penguins would have played their normal all out power play with 2 defensemen and went for the kill as their preventative measure, they win this game no problem.
Just one other thing that's bothering me:
Why is Tanner Glass on the ice instead of Joe Vitale?  Vitale hasn't lost yet a game yet, tires out Ottawa's defense and draws a bunch of penalties.  Did Bylsma just over think the whole Ottawa is going to come out fighting or does Glass have some sort of inside information he's holding over Bylsma's head?