After attending another routine Penguins' victory at the Consol Energy Center last night, you would think I would have been riding high knowing the Penguins are just one victory over the Bruins Friday night from clinching the top seed in the Eastern Conference and getting guaranteed home ice advantage for at least the first three rounds of the playoffs.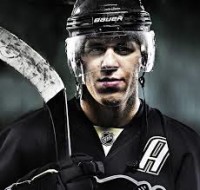 That assumption would be wrong.
My mood was tempered by at least five separate "Mensa" members I overheard while walking through the concourse in between periods who all think the Penguins should trade Evgeni Malkin during the upcoming offseason.  Now, of course, these same folks had already penciled in that the Penguins will have won the Cup this year most likely never once remembering that the Penguins have lost their last three playoff series all to teams they should have easily beaten.  Their "logic" all contained some of the following tid bits: "How can you pay a guy $8.7 million to put up the numbers he's putting up?", "Oh sure, he plays just fine on the bigger surface in Russia", "He doesn't like playing second fiddle to Sidney Crosby", "Think what we could get for him, easily a good combination of six players and draft picks, we'd be stocked for years".
Even back on March 23rd, our own Rick Buker proselytized whether it was "Time to Trade Malkin? (Penguins Update: Time to Trade Malkin?)
ENOUGH ALREADY!!!!!!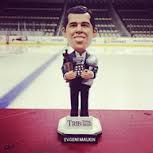 Most of this trade Geno talk has stemmed from the fact that last year he won both the Hart(NHL MVP) and the Art Ross(NHL Leading scorer) trophies, and he is nowhere close to winning either this season.  He currently has one year remaining after this one on a contract that is paying him, cap wise, $8.7 million per season.  If you ever were going to trade him, this offseason would be the time to do it.  His value, especially should the Penguins go on to win the Cup, will never be higher, and you would be giving any team that trades for him a full season of him and a full season to negotiate an extension.
But why would you trade the second best player in the game?????  Is Malkin putting up the same kinds of numbers that he put up last season?  No, but so what? He is still averaging over a point a game.  If you extrapolated his numbers to a full 82 game season, he would end up with 85 points this year not stellar, but more than respectable.  Having Malkin on the team gives the Penguins the best second line Center in hockey as well as one of the best power play units.  What could the Penguins get back for Geno that would come anywhere close to equaling what they would give up?  Prospects, draft picks?  Maybe, but not guys who could possibly develop into the second best forward in the game in time to win a few more Cups with Sidney Crosby.  In professional sports, trades have always been graded on which team got the better player in the trade.  Unless the guy coming back to us in a trade is Sidney Crosby, the other team is getting the better player, hence, they win the trade.
I've heard people say that Geno wants to leave and go somewhere where he can be out of Sid's shadow and be "The Man".  This couldn't be farther from the truth.  While playing over in Russia this past Winter during the NHL lockout, Malkin was "The Man".  He is a bigger star over there than Alex Ovechkin.  Everywhere he goes, he is hounded by media and paparazzi.  After every game, he has a hundred microphones in his face asking him myriad questions over and over.  Geno's reaction to all of this was, "How does Sidney do this all the time?"  I personally think Malkin is happier letting Sid be "The Man" and he can sit quietly in the background.  I really don't think he wants to go to a team in a larger media market where he will be expected to carry a team night in and night out and then have to answer to the media if he has an off night.
Geno has won two Art Ross trophies in his young career.  Do you know how many people have won it more than once, not that many.  And the ones who have have names like: Jagr, Lemieux, Gretzky, Mikita, Esposito, Hull, Orr and Howe.  Would you trade away any of these players if they were on your team right now at the height of their career?
Yes, resigning Malkin will give the Penguins two very expensive players in a league where the salary cap is going down next year, but I trust in Ray Shero to find a way to make it work and keep the Penguins competitive for the next 7 – 10 years.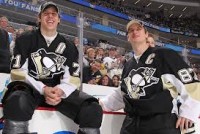 Instead of wanting to get rid of Malkin, we should be enjoying every day that he is a Penguin and hope that there are many more years to come.