When Steve Sullivan hightailed it out of Pittsburgh in the offseason the search for a winger to compliment Evgeni Malkin and James Neal took off.  Tangradi failing to make his mark kickstarted rumors of big trades for players such as Iginla, Kessel and others.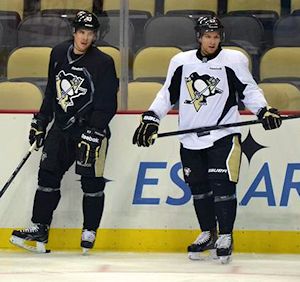 In the middle of all the trade hoopla stands a 23-year-old 14th overall pick. A guy the Penguins picked up for free off of waivers.  Zach Boychuk.  Now, four games into his Penguins career he has zero points, not even an assist playing on Malkin & Neal's line. Everyone is writing him off. For one, he is way too small at 5'10".  On top of that there is no way you can get a good player off of waivers.
Stats are one thing, and I know everyone has heard this all before about Tangradi.  The bunch of bull about what else he brings.  Boychuk is slowly starting to figure Malkin out. Even Chris Kunitz will tell you that Malkin's play is "a little unconventional" and takes time to get used to.  The truth is, Boychuk looks really good out there on Malkin's line only four games in.
Addressing the other issues.  Steve Sullivan was two inches shorter than Boychuk.  James Neal didn't score his first 7 games with the Penguins and only had a goal and 2 assists in his first 20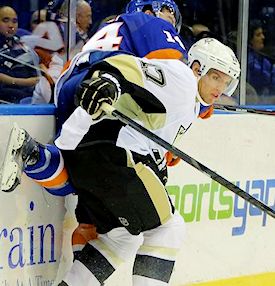 games.  On top of that Neal was getting 17 minutes a game on average with Power Play time.  Boychuk gets 10 minutes with zero powerplay time.
As far getting him free on waivers?  Craig Adams came off of waivers and we would have had to get Billy Guerin off of waivers if the Islanders didn't respect his age and record so much.
Boychuk right now I'm sure is in a bit of shell-shock going from being sent down to playing on a line with the reigning MVP and Art Ross Trophy winner.  Give Boychuk some time, he has the skill the speed and heart to be a long time Penguin.