With rumors flying all over the place that the Boston Bruins had put together a big time trade that would rival or even surpass the two that the Penguins had just made around midnight last night, I can just picture Penguins Assistant Coach Tony Granato running over to Head Coach Dan Bylsma and saying, "Do the jingle, do the jingle"  Bylsma then proceeded to sing, "Like a good neighbor, Ray Shero's there  with a Superstar winger?", and lo and behold, the Penguins GM went out and landed Jarome Iginla right out from under the Bruins' noses.
This isn't the first time Iginla has been traded to aid in the run for a Stanley Cup.  As a highly touted first round pick(Number 11 overall) of the Dallas Stars in 1995, he was part of the deal that was sent to the Calgary Flames to acquire Joe Nieuwendyk after which the Stars went on to win the Cup three years later.  Now, it is Iginla's turn to be the guy traded for to help a team win it all.(Preferably this year and not in three)
The two most Googled names in North America this morning are Ben Hanowski and Ken Agostino, two former draft picks neither of which the Penguins had even signed to contracts yet.  How Shero was able to pull off three major trades and not lose even one player one the active roster is just amazing, and before you go bashing him for giving up our top three draft picks, just remember, those picks are hopefully going to be the 30th in each round.
Like I asked in a previous article about Brenden Morrow, exactly where should the Penguins play Iginla to get the most out of his skills and not upset the chemistry of a team currently riding a 13 game winning streak?  If it was up to me, and usually it's a good thing that it isn't, here would be my line combinations when the Penguins take the ice on Saturday Vs. the New York Islanders(And for fun's sake, we're going to assume Malkin makes his return that game):
Line 1A. Morrow – Crosby – Iginla
Line 1B. Kunitz – Malkin – Neal
Line 3 Cooke – Sutter – Dupuis
Line 4 Adams – Vitale – Kennedy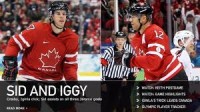 Before everyone jumps down my throat for moving Kunitz away from Crosby, let's look at this objectively. Crosby and Iginla clicked during their brief time together at the Olympics in 2010, and Morrow would give the two of them a physical presence in front of the net and in the corners.  Kunitz clicked just fine with Geno while Sid was dealing with his concussion issues, and I have to believe he would click with him again.  Cooke/Sutter/Dupuis give the Pens an offensive third line and Sutter the offensive winger he has yet to have with Dupuis, and Adams and Vitale together give you two good face off Centers on the same line for taking those late game face offs in your own zone.
With his amassing of superstar talent from within and without, Ray Shero has now assembled the 1927 Yankees of hockey.  If, and I shutter to even think the thought, somehow this team stumbles along the way like the 1992-93 Penguins did and do not win the Cup, it will be an epic fail for the ages.  Now all I want to hear to Disco Dan sing is, "Like a good neighbor, Ray Shero's there – With a Stanley Cup!!!!!"