Penguins leading scorer in this young playoff season, Evgeni Malkin, has gotten a reputation in the NHL.  It's not a good one.  It is the same reputation that Sidney Crosby had a few years ago and he's having a little trouble shaking it.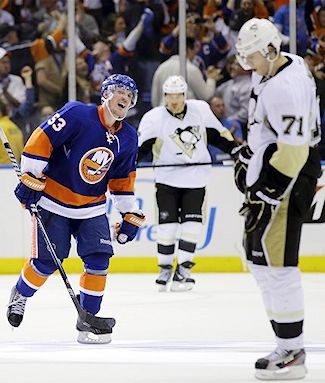 Every team knows right now that they can throw Malkin off his game by getting in his face.  Crosby had these problems at the beginning of his career.  Crosby was a hot head for a year or two and eventually was able to battle it off verbally most of the time and eventually learned to use it to his advantage.  Seriously how hard is it to say "Ha that's funny", "I make 12 Million a year before endorsements and own just about every trophy the NHL has invented, what do you got"
For Malkin it's a bit of a different story.  English being his second language, a battle of verbal linguistics is not his forte. He has no problem coming back physically and that's what gets him in trouble.
Malkin is #2 in penalty minutes this post season among the top 50 scorers.  The Islanders have exploited him over and over.
While there are a few solutions to this, some are harder than others.  The easy solution would be for him to stop retaliating.  That's most likely not going to happen.  It is extremely hard to be a fierce competitor to put away his emotion while being abused verbally & physically.
My solution comes with a problem created by Ray Shero at the trade deadline.
Move Brenden Morrow to Malkin's line.  Wait, hear me out.   I know, I know.  You can't put Iginla on the third or forth line or Kunitz is the one who should be on Malkin's line. Right?
First off.  Kunitz is not going to be on Malkin's line.  The Crosby, Dupuis & Kunitz line is the number one line in the NHL.  Kunitz had 22 goals and 52 points in 48 games with Crosby, 26 goals 61 points in 82 games on Malkin's line last year.  Do the math.  Ok, I'll do it for you.   Kunitz would have had 38 goals 89 points in 82 games with Crosby.  Let's also face it.  Malkin has not been himself this year, I wouldn't be surprised if he brought his shoulder injury back from the KHL before he started the season.
Moving Kunitz to Malkin's line is not an option.
Iginla is another conundrum.  Malkin needs a forward that will go to the net and cause traffic for him and Neal to work their magic and Iginla is not that guy.  Like Neal, Iginla is a sit back and shoot guy.  Basically the line has too many cook's in the kitchen.  The other problem is that Iginla has been part of the problem.  Earlier when I mentioned earlier that Malkin is second in penalty minutes among the top 50 scorers this post season, I may have left out the fact that Jarome Iginla is the player ahead of him at the #1 position.
What's happening is that Iginla is jumping in the scrums after plays and is only helping work Malkin up more and getting both himself and Malkin in the penalty box.
Here is what Morrow brings to the table.  He is the guy who has proven to be able open up tons of ice for Malkin & Neal to work their magic just by planting himself in front of the net and causing a nuisance. He is also great a screening the goaltender and putting in rebounds.
The big reason to have Morrow on Malkin's line is for the next time someone face washes Malkin or takes a cheap shot after the whistle.  Morrow is going to step in and fight the guy, not just exasperate the problem.  Something Iginla is not known or prone to do.
After a few fights, Morrow will just need to threaten to fight, then just a quick as Malkin's problems started, they will all be gone.
Putting Iginla on the third line with Cooke and Sutter is just going to have to happen, as I said earlier my solution comes with the problem created by Shero.  Too many great players to fit on the top two lines.