If you haven't heard Malkin has been ruled out of tonight's game and placed on IR.  As well he should be.  That is of course if the media has correctly speculated he has a shoulder injury or a head injury.  Both of those injuries take more than just a few weeks to heal correctly and both of those injuries are injuries that could affect Malkin's play in the playoffs.  If Malkin has either of those injuries,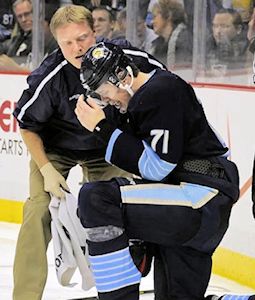 then I am speculating that Malkin himself may be trying to rush back into the lineup.  He most likely doesn't want to have injuries be a discussion while he's negotiating his big contract in the off season.
Put yourself in Penguins General Manager Ray Shero's shoes.  You've been itching to upgrade the roster for a few weeks but your team keeps on winning.  You know full well that you never mess with a streak and you know full well that when your team is in first place any move you make will face intense scrutiny under the proverbial media microscope. With injuries to both Evgeni Malkin and with Kris Letang, Shero finally has the perfect excuse to make a move.
Calgary's Jerome Iginla has been mentioned time and time again in trade rumors with the Penguins. I myself have questioned why on earth the Penguins would be interested in Iginla or any other forward for that matter.  The Penguins have scored more goals than any other team.  Why discombobulate a perfectly oiled machine?
When looking back.  Over the last two years the Penguins have had many key injuries to forwards. You can't help but think about how everyone kept thinking Crosby was going to comeback for the playoffs two seasons ago.  He never did.  While I really hope this is not the case with Malkin, having the insurance policy of a Jerome Iginla or another quality rental couldn't hurt.
It would be remiss of me not to mention how Ray Shero's bargaining ability would be hampered if Malkin's injury is worse than the Penguins are mentioning.
The cost of this rental must be low.  Simon Despres must not be in the equation.  Despres is a very important bargaining chip in the contract talks with Letang this summer.  Despres can and will fill Letang's shoes if said talks go awry.
The Penguins have more than a few quality upcoming defensive prospects not named Despres in the minors and one them on the team right now.  A quality defensive prospect and a draft pick should be plenty enough to land a rental or two.