I'm not completely sold that adding Iginla to the roster is all it's cracked up to be, but that conversation has already happened in an earlier post, and the deal is already done. Let's all put down our etching machines for a minute to ask an important question: Now that the Pens have an embarrassment of riches in terms of big names, does the team have the leadership behind the bench to make this superteam machine hum all the way to the finals?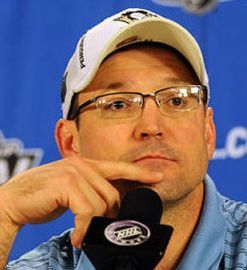 Dan Bylsma has the hardest job moving forward — in terms of managing expectations in the locker room (that ship has clearly sailed among Pens fans), finding the right chemistry between all of our old and newly acquired talent, and getting the Pens over some little humps like, oh, the rest of the regular season and injuries that we're dealing with now and those that may happen down the road. "But Joey, how is this different from any other coach's job in the NHL?" I'm glad you asked. Because the Penguins, as of right now, are the only team that is stacked like a Saturday-night feature dancer at Cheerleaders*. The pressure is greater. The talent is better. The stakes are higher. The job, for Bylsma and his staff, is infinitely harder.
Can he do his part? What do you think?
*Disclaimer: I'm not endorsing Cheerleaders. I've actually never been there. They just seem to have lots of feature acts and definitely the most commercials.