There was a time in the not-too-distant past when Pittsburgh Penguins opponents hated visiting the Steel City. Not only would they have to face a lethal lineup featuring hungry young stars such as Sidney Crosby and Evgeni Malkin, but they knew they'd absorb more than a few bumps and bruises, too.
Now it seems, opponents are having far too easy time with the black and gold. Basically, all a foe needs to do is weather the Pens' predictable frenzied start, deny their smallish forwards the middle of the ice, and wait for one of their high-priced superstars to turn the puck over in frustration.
It wasn't always so. When Ray Shero assumed the GM duties back in 2006 one of his first priorities was to make the Penguins more difficult to play against. Enter disturber Jarkko Ruutu and, a short time later, legendary toughies Georges Laraque and "Scary" Gary Roberts. Overnight, the Pens were transformed from hockey lambs into lions.
And now? While you can hardly call the Pens timid, there are a growing number of players who have an aversion to body contact.
Sadly, this seems to be by design. In a subtle way, the Penguins are still apologizing for their role in the "Fight Night" brawl with Islanders back in 2011. Since that fateful Friday combative types such as Arron Asham, Matt Cooke, Eric Godard, Mike Rupp, and Max Talbot were trimmed from the roster like so much meat off the backyard barbecue. As a result, the Pens lost a huge chunk of gristle and backbone.
I'm not suggesting that Shero import a bunch of goons. The game has evolved over the past few seasons, especially in light of the growing concern over concussions. Hockey heavyweights are going the way of the dodo bird. Still, you need players who'll arrive at the puck in ill humor or, more to the point, crash the net with gusto.
"We've got to get the puck to the net," lamented winger Chris Kunitz, one of the few Penguins to frequent the high-traffic areas. "We've got to get bodies to the net. Get second, third, fourth chances. Whatever it takes."
Coach Dan Bylsma echoed Kunitz' sentiments.
"We're certainly not doing enough around the net and in those areas to get the goals that I think were there," he said following a recent loss to the Flyers.
More size up front would help. Partly due to Bylsma's preference for speed, the Pens have cultivated a group of undersized forwards. Great for motoring up and down the ice. Not so great if you're trying to bull your way past a 220-pound defenseman to get to a loose puck in the slot or win a crucial battle along the boards.
The club could sorely use a forward or two like ex-Pen Ryan Malone, who possesses size, toughness and scoring ability in one tidy package. Trouble is, with the exception of Adam Payerl, there's nobody in the organization who remotely fits that description. To my knowledge, no one is touting Payerl (2 goals in 13 games with Wilkes Barre) as a future NHLer.
Until the Penguins as an organization changes its mindset, I fear the team will continue to morph into an easy opponent.
*Be sure to check out Rick Buker's books,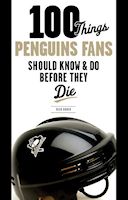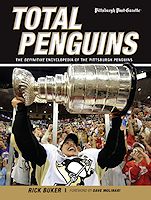 available at TriumphBooks.com, Amazon.com, and BarnesandNoble.com