Is it me, or did the Penguins' 6-5 loss to Philadelphia Wednesday night look eerily familiar? It was almost as if we entered a space/time vortex and were watching a game from last season's disastrous first-round playoff matchup.
The game featured an all-too-familiar script. The Penguins rocketed from the starting gate to snatch a quick lead. Philly coach Peter Laviolette burned an early timeout to steady his troops. The Flyers responded with an U-G-L-Y goal (the only guy who wasn't in the net was Pens goalie Tomas Vokoun). The Penguins' composure—along with any semblance of defensive-zone structure—crumbled in the wake of yet another frustrating defeat at the hands of our most bitter rival.
It's the latter that troubles me the most. After watching the Flyers slice through his team last spring like a knife carving up a Thanksgiving turkey, I thought Pens coach Dan Bylsma surely would preach better defensive play to his charges.
If he has, the players aren't heeding the message. Every time the Flyers forced the Pens to play in their own end for more than 10 seconds you could see the black and gold start to unravel. It's like somebody pushed an invisible panic button as our boys morphed into a bunch of kids chasing after the puck in a peewee game.
I realize the Penguins never will be a defense-first team under Bylsma, nor should they be. When you've got superstar offensive talent you need to exploit it. However, a team MUST be able to play at least reasonably sound defense when the situation calls for it. As potent as our 2009 Cup-winners were, they were well-schooled in defensive hockey thanks to the lessons pounded home by previous coach Michel Therrien.
Kind of makes me wish we could implant a Therrien-chip into Bylsma's noggin. Then the popular coach might be able to blend his attacking style with some much-needed defensive structure.
*Be sure to check out Rick Buker's books,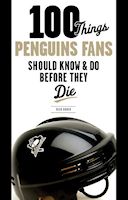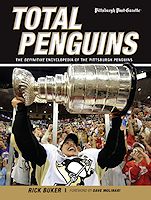 available at TriumphBooks.com, Amazon.com, and BarnesandNoble.com