In the biggest craziest trade shock I can remember, Ray Shero just re-united the tandem that led the Canadian Hockey team to the gold medal in Vancouver 2010.  Yes, Ray Shero pulled the rug out from under Boston and landed the 2013 trade deadlines biggest prize.
At around midnight NHL.com and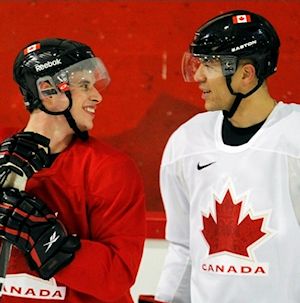 TSN had reported Jarome Iginla was traded to the Boston Bruins.  Then ESPN, USA Today & everyone else was reporting it.  Iginla to Boston.  They even reported the players who were traded to Calgary, a Pittsburgh kid, a smaller Russian center and a 2013 first round pick.
Then at about 1:20AM there was one solitary tweet.  "Boston said it is not a done deal".  Then more and more it's not a done deal tweets 'til all of the sudden BOOM Bob McKenzie at TSN tweeted "Now hearing Jarome Iginla has been traded to the Pittsburgh Penguins. Done deal."  Then the tweets started to pour in and wouldn't you know it, the report was off of NHL.com about Boston.  In it's place there was a fresh one that no longer said "report" it said completed deal with Pittsburgh.  Amazing.
The Penguins gave up a lot. Shero traded the rights to unsigned draft choice Kenneth Agostino and unsigned draft choice Ben Hanowski plus a first round pick in 2013.  Ray Shero has stated that he is all in for this year and there is absolutely no doubting that now.
He planned for this, saved his money and rounded up prospects.   I predicted Shero had a doozy of a trade deadline up his sleeve at the top of the PenguinPoop "Pittsburgh Penguins 2013 Trade Deadline Rumors" but I seriously had no idea it would be this big!
What this means for the Penguins is anyone's guess. The easy guess is Pascal Dupuis gets moved down to the third line.  Other than that it is one big glorious talented mess.  Shero has slammed an exclamation point on the most talented, hardworking group of players put together on a team in the Salary Cap Era. The Penguins fans motto is rightfully "In Shero We Trust!"