It might come as a surprise for Penguins fans to learn that a Hall-of-Fame defenseman skated for the team in the mid-to-late 1970s. No, it wasn't shot-blocker extraordinaire Dave Burrows or even Norris Trophy winner Randy Carlyle. His name was Bob Paradise, and he was inducted into the United States Hockey Hall of Fame in 1989.
The third oldest of seven brothers, Paradise grew up in the rough West End section of St. Paul, Minnesota. He quickly learned how to handle himself.
"A lot of times there was action around the house," Paradise recalled. "Somebody was always getting in somebody's way. We weren't as understanding as they require you to be today. If somebody got in your way, you might have to do something to get them to move."
A talented multi-sport athlete, Paradise earned all-state honors in football and hockey at Cretin High School. He was an accomplished baseball player, too, drawing a contract offer from the Boston Red Sox in 1965. However, the strapping youngster opted to play collegiate hockey at St. Mary's in Winona, Minnesota, where he emerged as an all-conference defenseman.
His strong play won him a spot on the 1968 United States Olympic team. Originally signed by Montreal, Paradise made a cameo appearance with the Minnesota North Stars in 1971-72 before moving on to the expansion Atlanta Flames. Thanks to his physical style of play he instantly became a fan favorite in Dixie.
Seeking to add muscle to his talented but timid team, Pens GM Jack Riley acquired Paradise (along with Chuck Arnason) from the Flames on January 4, 1974, for All-Star Al McDonough. He quickly established himself in the Steel City as a sturdy, stay-at-home defender.
Paradise enjoyed his finest pro season in 1974-75, posting career highs in points (18) and penalty minutes (109). Along with equally imposing winger Bob "Battleship" Kelly, the 6'1" 205-pounder served as one the Pens' protectors, shielding stars such as Syl Apps from the likes of Philadelphia's "Broad Street Bullies."
Naturally, Apps was a big admirer.
"He [Paradise] was just a good guy," Syl told Jim O'Brien in Penguin Profiles. "I broke into the pros with him at Omaha. Bobby was a good leader. He didn't put up with anybody's b.s. But he was a good guy and a good team man."
Due to his no-nonsense reputation, Paradise wasn't challenged very often. A notable exception occurred during Game 7 of the ill-fated 1975 Wales Conference Semifinals against the Islanders. Early in the contest Paradise clashed with New York's Clark Gillies in a true heavyweight tilt. Shaking off the effects of a separated shoulder, Paradise floored the fearsome Islander to score an impressive decision.
"He beat the heck out of me," Gillies confessed.
Although firmly established as one of the team's most popular and respected players, Paradise was dealt to Washington on November 26, 1975. However, the Pens sorely missed his toughness and leadership, prompting new GM Baz Bastien to reacquire the rugged rearguard on the eve of the 1977-78 campaign. Big Bob skated in 64 games for the blue and white that year and 14 more the following season before hanging up his skates.
*Be sure to check out Rick Buker's books,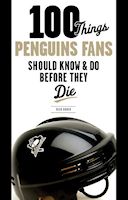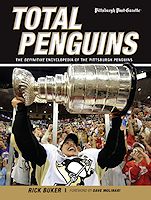 available at TriumphBooks.com, Amazon.com, and BarnesandNoble.com