A while back I noticed that Seth Rorabaugh of the Pittsburgh Post-Gazette had asked the readers of his blog to list their toughest Penguins of all-time. With nothing in particular to write about (always a dangerous thing), I decided to compile my own list of toughest Penguins by category, starting with the Hardest Hitters.
Here's my top five body bangers in Pens history:
1. Brooks Orpik (2002-present) Among the last of a dying breed of great open-ice hitters, No. 44 has made a career out of softening up opponents with bone-crushing checks. During Game 1 of the 2009 Stanley Cup Finals, Orpik sent a message to the Red Wings by nailing former teammate Marian Hossa at center ice. In 2012 he launched the Bruins' Daniel Paille into orbit with a thunderous open-ice check.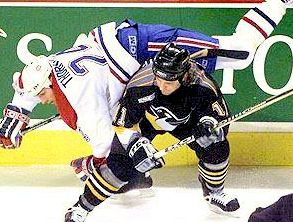 2. Darius Kasparaitis (1996-02) Possessing a low center of gravity and powerful legs, Kasparaitis had the perfect body for hitting. Like a wrecking ball on the rampage, the spirited defender laid waste to countless opponents during his five-plus seasons in the 'Burgh. Few can forget the Richter Scale hit he put on Philly superstar Eric Lindros in 1998.
3. Dennis Owchar (1974-77) A battering ram on skates, the powerfully built native of Dryden, Ontario used the shoulder check to flatten opponents with stunning regularity and force. During the 1976-77 season, "Owch" sidelined three opponents—including Dan Maloney and Mike Robitaille—with hard, clean checks. Underrated fighter, too.
4. Jean-Guy Lagace (1968-69, 1972-75) A fireplug French-Canadian defenseman who served two tours of duty with the Pens, Lagace sent many an opponent sprawling with his patented hip-checks. Unfortunately, Jean-Guy couldn't fight very well, which made him a frequent target for retribution.
5. Francois Leroux (1995-97) Although a plodding skater, "Frankie" delivered some of the hardest hits in franchise history. In particular, a Leroux check signaled the beginning of Pat LaFontaine's career-ending concussion woes. Hardly a shrinking violet when it came to dropping the mitts, the hulking 6'6" 247-pounder scored a stunning TKO of Blues baddie Tony Twist in 1996.
Honorable Mention: Paul Baxter, Roger Belanger, Leo Boivin, Bob Boughner, and Ulf Samuelsson.
*Be sure to check out Rick Buker's books,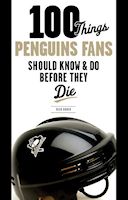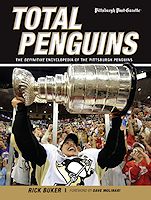 available at TriumphBooks.com, Amazon.com, and BarnesandNoble.com