As a rookie hopeful fresh out of the University of Minnesota-Duluth, Pat Boutette received a baptism by fire … from his own teammate. While trying to make an impression during a Toronto Maple Leafs training camp he engaged in several fights with NHL penalty king Dave "Tiger" Williams.
The scrappy youngster passed his first test. Boutette's spirited play earned a spot on the Maple Leafs roster in 1975. Although he stood only 5-feet 8-inches tall, he took on some of the biggest and toughest players in the game, including Islanders heavyweight Clark Gillies. While he frequently lost, he never backed down.
Boutette developed into a solid third-liner with Toronto. However, following a slow start in 1979-80 he was peddled to the Hartford Whalers. Thrust into a more prominent role on the "Bash, Dash, and Stash Line" with Mike Rogers and ex-Pen Blaine Stoughton, Boutette flourished. In 1980-81 he enjoyed a career season, piling up 28 goals, 52 assists, and 80 points while serving 160 minutes in the slammer.
During the summer of 1981 Boutette changed teams again. The Whalers reluctantly sent the feisty winger to Pittsburgh along with Kevin McClelland as compensation for free-agent goalie Greg Millen.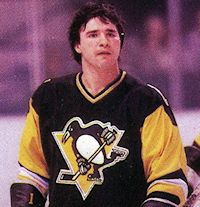 "Booter" quickly established himself in the Steel City. Skating on the No. 1 line with top scorers Paul Gardner and Rick Kehoe he struck for 23 goals and 74 points—including 14 power-play goals.
Among the last Penguins to play without a helmet, Boutette was utterly fearless. Not the least bit shy about laying the lumber on an opponent to settle a score, No. 15 seemed to be perpetually engaged in one skirmish after another. His chippy play drew plenty of attention from the referees (548 PIM during his stay in the 'Burgh).
Always a clutch postseason performer, Boutette was one of the Penguins' best players during the gut-wrenching opening-round loss to the Islanders in 1982. After scoring two of the team's three goals during a pair of blowout losses to the Islanders he notched the game-tying goal in Game 3 to ignite a black-and-gold comeback.
The hard-nosed winger continued his hot hand in 1982-83. By early December he'd racked up a team-high 18 goals—including 10 on the power play.
"I got off to a really good start this year," the Windsor, Ontario native explained during an interview with Flyers color man Bob Taylor. "It seems like the puck was just going in at the start of the year and it's pretty unbelievable."
As the Penguins stumbled to a last-place finish Boutette cooled as well, although he still potted a highly respectable 27 goals. His teammates showed their appreciation by honoring him with the Player's Player Award.
It was the highlight of his Penguins career. By the start of the 1983-84 campaign GM Eddie Johnston had initiated a full-scale rebuilding program. One of the few veterans to remain, Boutette tallied 14 goals and 40 points for a horrible team. Although not for a lack of effort his plus/minus dipped to a league-worst minus-58.
After returning to Hartford in a trade for defenseman Ville Siren, Boutette retired following the 1984-85 season with 171 career goals and 453 points to his credit.
*Be sure to check out Rick Buker's books,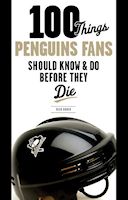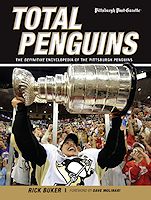 available at TriumphBooks.com, Amazon.com, and BarnesandNoble.com