The Dirty (Half) Dozen features the Penguins players who were most likely to stray over the boundaries of fair and gentlemanly play. Needless to say, none was ever a candidate for the Lady Byng Trophy.
1. Steve Durbano (1974-76) A wild man on skates, "Demolition Durby" was renowned for his razor-edge temper and unpredictability. Aptly described by one observer as "a hard fist of a defenseman," the volatile Durbano would go to any length to intimidate an opponent. Even goalies were fair game—he once attacked the Islanders' Billy Smith. The baddest of bad men.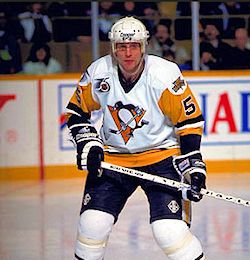 2. Ulf Samuelsson (1991-95) Armed with oversized shoulder pads, a visor, and a sneer, Samuelsson took borderline play to new highs (or lows) during his 16-year NHL career. Dubbed "Jack Lambert on Skates," the hard-nosed Swede used cross-checks, slashes, rabbit punches, and face washes (not to mention plain old rugged play)—to discourage opponents. His private war with Boston strongman Cam Neely is the stuff of legend.
3. Paul Baxter (1980-83) Few players have inspired more raw hatred than Baxter. In separate incidents, Barry Beck and Paul Holmgren literally tried to kill the tough Penguins defender. A hard hitter who possessed a sneaky left hand, "Baxie" had the temerity to sucker-punch Flyers toughie Behn Wilson at the old Spectrum one night to incite a wild five-on-five brawl.
4. Matt Cooke (2008-13) Could've made the toughest list in several categories. However, due to his penchant for dangerous hits and borderline play, the hyper-aggressive winger earned a spot on the dirtiest list. After effectively ending the career of Bruins' star Marc Savard with a blindside hit, Cooke worked hard to clean up his act. Still, controversy continued to dog him after he sliced the Achilles tendon of Ottawa star Erik Karlsson.
5 (tie). Pat Boutette (1981-84) Pound for pound, one of the toughest players ever to don a Penguins' jersey. Although undersized at 5'8" and 175 pounds, "Booter" never backed up an inch. Laid enough lumber on the opposition to merit being cast in a slasher flick. Underrated scorer, too.
5 (tie). Andy Brown (1973-74) The last NHL goalie to play without a mask, Brown used his big goaltender's blade to cut a wide swath through the league in 1973-74, piling up 60 PIM in 36 games. During a late-season game against Chicago, he nearly beheaded rugged Black Hawks defender Phil Russell. Raced stock cars in the off-season.
Honorable Mention: Pat Price, Jarkko Ruutu, Bryan Watson
*Be sure to check out Rick Buker's books,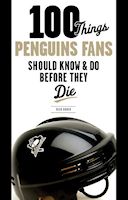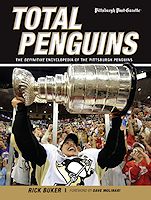 available at TriumphBooks.com, Amazon.com, and BarnesandNoble.com