The Penguins have employed their share of pests—the thorn-in-the-side guys who make a living out of irritating the opposition. Here are my top seven:
1. Bryan Watson (1969-74) Watson wasn't nicknamed "Bugsy" and "Superpest" for nothing. Like his partner in crime, Glen Sather, the tough little defender excelled at getting under the oppositions' skin. Unlike many pests, Watson was a fearless—if often overmatched—fighter. Led the league with 212 PIM in 1971-72.
2. Matthew Barnaby (1998-01) Runner-up to Paul Baxter in the "Most Hated" category. On the eve of the 1999 postseason Barnaby referred to then-Devils defenseman Lyle Odelein as "Cornelius" from Planet of the Apes, igniting one of hockey's most bitter feuds. Once challenged Islanders behemoth Eric Cairns in the hallway between periods. Always at the eye of the storm.
3. Jarkko Ruutu (2006-08) Hoping to transform the Pens into a more difficult opponent, GM Ray Shero made signing Ruutu a top priority. A virtual Tasmanian devil on skates, the Finnish bad boy more than fulfilled Shero's wishes. Employing his grating, in-your-face style to the fullest measure, Ruutu made life miserable for the opposition during his two seasons in the 'Burgh.
4. Glen Sather (1969-71) An early version of Matt Cooke, Sather employed an acid tongue and abrasive style of play to unnerve even the toughest opponents. His favorite targets were the Blues' notorious Plager brothers, Barclay and Bob. "Slats" could back up his lip with his dukes, too.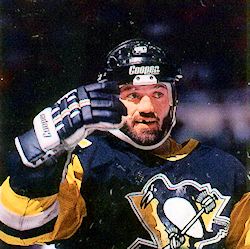 5. Gary Rissling (1980-85) Perhaps the most loveable pest in Penguins history. Known for his wide range of facial expressions, the scrappy little winger constantly squirted gasoline on incipient fires. Like "Bugsy" Watson before him, he often paid a heavy price for his indiscretions. "Pac Man" always came back for more, almost always against much larger opponents.
6 (tie). Max Talbot (2005-11) Among the most popular Penguins ever, the gregarious forward was never timid about taking on bigger or tougher opponents. "Mad Max" lost the battle but won the war when he challenged Flyers penalty king Daniel Carcillo during the opening round of the 2009 playoffs. Scored two of the biggest goals in black-and-gold history to clinch the '09 Cup.
6 (tie). Tyler Wright (1996-00) Feisty little center kept the pot stirred during his four years in the 'Burgh. Tyler teamed with Barnaby (and peacenik Aleksey Morozov) to form the most annoying checking line in the league. Developed into a decent scorer under Herb Brooks after failing to register a point in 1998-99.
*Be sure to check out Rick Buker's books,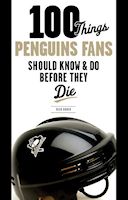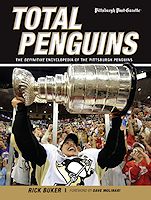 available at TriumphBooks.com, Amazon.com, and BarnesandNoble.com