For my fourth and final installment on the toughest Penguins ever, I've listed the guys I'd most want to have with me if I were entering a dark alley.
1. Bob "Battleship" Kelly (1974-77) As a 27-year-old rookie with St. Louis, Kelly beat reigning heavyweight king Dave Schultz twice in a preseason game. Able to intimidate foes simply by skating onto the ice, "Battleship" found few takers during his three-plus seasons in the 'Burgh. Blessed with a stinging right and near-mythic reputation.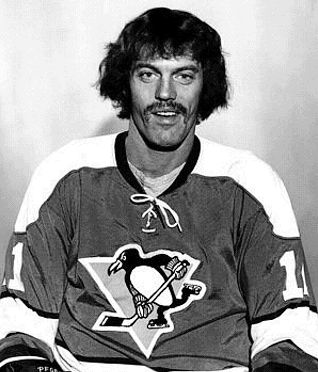 2. Georges Laraque (2007-08) Conservatively listed at 253 pounds, the larger-than-life Laraque was the Pens' first bona fide heavyweight champ. "BGL" set the rest of the league on notice when he fought Colton Orr and Donald Brashear shortly after his arrival in the Steel City. Used his massive frame to effectively dominate puck battles along the boards.
3. Eric Godard (2008-11) Faced with filling the mammoth skates of the departed Laraque, Godard excelled as an enforcer during the Cup run of 2008-09. Taking on all comers, "Godsy" waged epic battles with the likes of Riley Cote and Colton Orr. Left the bench to defend teammate Brent Johnson during the pier-six brawl with the Islanders in 2011.
4. Deryk Engelland (2009-present) Following a long minor-league apprenticeship, Deryk burst onto the scene with a stunning TKO of Colton Orr in 2010. Armed with a murderous right cross, "The King of Engelland" quickly established himself as one of the premier fighters in the league. Overcame limitations to emerge as a tough, reliable defenseman.
5. Rick Tocchet (1992-94) Possessing a glare that could burn a hole through a steel I-Beam, Tocchet entered the league as a hired gun before evolving into a top power forward. Able to go righty or lefty with equal ability, "Dicky" broke the nose of future Pens teammate Troy Loney in a savage tilt shortly before his arrival. Provided much-needed toughness and fire during the 1992 Cup run.
6. Bob Paradise (1974-75, 1977-78) Paradise was a rarity—a heavyweight who rarely fought. Like his Pens teammate, "Battleship" Kelly, the rugged defenseman commanded tremendous respect throughout the league. In one of his few battles, the St. Paul, Minnesota native beat fearsome Islanders forward Clark Gillies.
7. Arron Asham (2010-12) Pound for pound, perhaps the toughest fighter in Penguins history. Armed with a pile-driver right and granite chin, "Ash" made a living out of clobbering larger opponents. Famously kayoed Washington's Jay Beagle early in the 2011 season, then drew heat for celebrating. Hosted a popular radio show during his two-year stay.
8. Gary Roberts (2007-08) His nickname—"Scary Gary"—says it all. Tough-as-nails power forward joined the Pens late in his career to provide toughness and leadership. Signature fight came in 2007 when he beat the tar out of Philly's Ben Eager—a player 17 years his junior. Known for his superb conditioning, Roberts overcame a severe neck injury to carve out a 22-year NHL career.
9. Marty McSorley (1983-85, 1993-94) Upon his arrival as a fresh-faced rookie in 1983, McSorley established himself by taking on the league's top heavyweights. "Marty Mac" quickly earned a reputation for toughness, determination and stamina. His epic battle with Bob Probert during his second tour with the Pens ranks as one of the all-time greats.
10. Dave Schultz (1977-79) Once the terror of the league, "The Hammer" was fading as a physical force by the time he joined the Pens. Still, he dropped the mitts over 20 times during the 1977-78 season while piling up a whopping 378 penalty minutes. Stood up for the team one night at the Civic Arena by battling ex-Broad Street Bully mates "Moose" Dupont and Behn Wilson.
Honorable Mention: Russ Anderson, Paul Baxter, Dennis Bonvie, Rod Buskas, Colin Campbell, Steve Durbano, Francois Leroux, Kevin McClelland, Jim McKenzie, Krzysztof Oliwa, Tracy Pratt, Mike Rupp, Terry Ruskowski, Al Smith, Alek Stojanov, and Warren Young.
*Be sure to check out Rick Buker's books,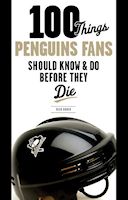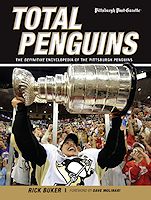 available at TriumphBooks.com, Amazon.com, and BarnesandNoble.com