The Pittsburgh Penguins are in their worst scoring drought in a 10 game span in years and it's getting worse.   The Penguins have registered only 3 goals over the last three games and have just announced that their leading goal scorer over the last two years, James Neal, is out with a concussion.
Nobody can say for sure whether the elbow Rangers defenseman Michael Del Zotto planted in James Neal's face on Friday was dirty or not, but it's in material.  The NHL offices deemed it not to be dirty and there really is no way to prove otherwise.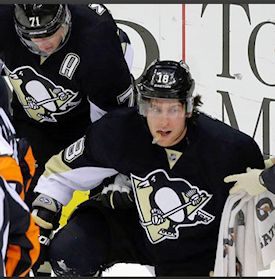 Neither Neal or the Penguins are putting a timetable on his return, but time is on the Penguins side.  The Penguins clinched a playoff spot on Sunday.  With playoffs set to start exactly three weeks from today, the Penguins have James Neal, the NHL's leading scorer Sidney Crosby and their two top scoring defensemen Kris Letang and Paul Martin on the shelf.
Hope is on the horizon.  Sidney Crosby looked and sounded way better than expected in his interview with the press yesterday.  It would seem that once he gets back on a diet of regular food he will start skating again.  Kris Letang has started skating and is with the team in Carolina today but will not be playing.  He is considered day to day and is letting the trainers and coaches decide when he will be in action again.   Once again there is no hurry for his return, that is unless you ask Letang: "I want to start playing and make sure when I get into the playoffs I'm ready to go."
The last time the Penguins scored this few amount of goals over a ten game span was in February 2011.  Sidney Crosby and Evgeni Malkin were out of the lineup and James Neal was still playing for the Dallas Stars.  The good news is that amidst the streak and injuries the Penguins have somehow won 8 out of the last 10 games and have clinched a playoff spot.  If the Penguins win tonight against the Carolina Hurricanes they clinch the Atlantic Division and a top three playoff spot.