Matt Cooke has deserved his time spent as public enemy number one in many cities over the years.  It's not even debatable.  He has done a few things that are going to keep him from ever receiving the hockey equivalent of saint hood, or the Lady Byng award.  The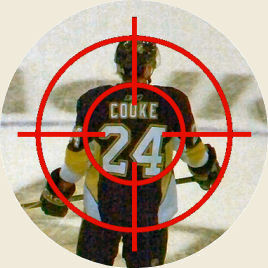 entire city of Ottawa has spent the last two months trying to prove that Cooke did something based entirely on Cooke's history and not on what actually happened.
Today in Ottawa the fans, their owner & media are rallying around destroying an incorrectly accused Matt Cooke.  Ottawa is claiming that Cooke came down with his skate on their star defenseman Erik Karlsson's ankle and sliced his Achilles tendon on purpose.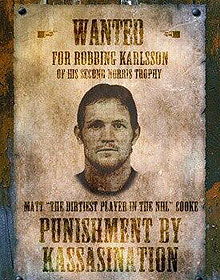 Ottawa itself has a Red Scarf Union, which forgive me for not being familiar with Canada's Ottawallian culture, but I'm just going to have to assume is similar to the Red Hat Society members that meet weekday afternoons at restaurants here in the states.  Anyway, this "Red Scarf Union" has made wanted posters and are holding hate rallies all because of this incident that the NHL ruled was 100% an accident.
Two months ago Ottawa's eccentric owner Eugene Melnyk was so sure Cooke had done this on purpose he has brought in forensic doctors to try and prove it "You have to come back with professional evidence by forensic doctors that can do it. That's actually being done right in Toronto," said Eugene.  It's been two months and we haven't seen any of this amazing evidence.  There is a good chance Eugene's money may be better spent checking himself to see if he is a few tacos short of a combo platter.
Even Ottawa's media consortium has gotten into the act suggesting now that the Penguins sit Matt Cooke for tonight's game because the Penguins have already secured first place.  This is very ironic because Ottawa themselves are the ones that created this problem and are exasperating the problem even more by bringing back Erik Karlsson tonight for his first game since the injury.
That all being said, Matt Cooke is not the one that created this mess. How Matt Cooke has changed his game has been revered by hockey analysts all over and even some of his former haters.  He will stand up face what has happened as he has done many times before, though this time being on the correct side of valor.