There's a rather ominous Bible verse in the book of Hosea that warns, "… they have sown the wind, and they shall reap the whirlwind." While I may be guilty of taking this passage of scripture out of context, it sure seems like an apt description for what has been an exhilarating yet tumultuous couple of weeks for Penguins hockey.
On the plus side, GM Ray Shero acquired a bevy of high-profile rental players in an effort to return the Stanley Cup to the 'Burgh. The Pens obliged by ripping off a 15-game winning streak, tied for the second-longest in league history. However, injuries to key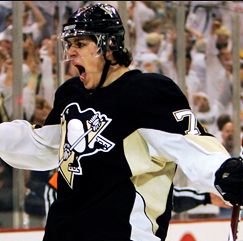 players such as Sidney Crosby, Kris Letang, and Paul Martin—not to mention a pair of ugly losses—have muddied the waters.
Amid the sudden turbulence, one thing is clear. It's time for the Penguins own whirlwind—Evgeni Malkin—to emerge from a season in the shadows. With Sid nursing a broken jaw, the Pens need No. 71 more than ever before.
To say Malkin's experienced a Jekyll-and-Hyde season would be an understatement. Geno was his usual dazzling self while skating in the Kontinental Hockey League during the lockout. However, to borrow from an old Beatles' tune, he appears to have left his 'A' game back in the USSR.
The numbers don't lie. If you project Malkin's current stats (6 goals, 27 points in 25 games) over a regular 82-game slate, he'd have 20 goals, 69 assists, and 89 points. Fine output for mere mortals. But compared to last season (50 goals, 109 points) when the Hart and Art Ross Trophy winner was far and away the best hockey player on the planet, his present production seems positively anemic.
So what gives? How could his play drop off so dramatically in such a relatively short span?
Injuries certainly have played a part. Geno's missed 13 games since late February with concussion and shoulder issues (ironically the Pens were 11-2 in those games).
Then there's the matter of Chris Kunitz being moved off his line. "Kuny" did much of the dirty work for Geno and linemate James Neal, who likewise has fallen into a funk following a fast start. Although newcomer Jarome Iginla possesses many of the same qualities as Kunitz, it's taking the new unit some time to jell.
There's another factor. More than any Penguin since Jaromir Jagr, Malkin is energized by scoring goals. If he tickles the twine—especially early in a contest—sit back and watch the pyrotechnics display. However, when he doesn't score he seems to press. Invariably this leads to all-too-familiar questionable on-ice decisions, i.e.; drop passes in the neutral zone, attempting to beat opponents 1-on-5, and the occasional undisciplined penalty.
Whether this is due to frustration or confidence issues it's hard to say. There's no question Geno puts enormous pressure on himself to produce. At times he tries to do too much on his own.
If the Pens are to mount a serious challenge for the Cup, they'll need a hale and hearty Malkin firing on all cylinders. If he learns to trust his linemates a little more instead of trying to beat the opposition single-handed, it'll only be a matter of time before he starts filling the net again.
*Be sure to check out Rick Buker's books,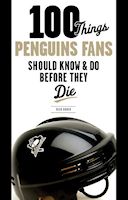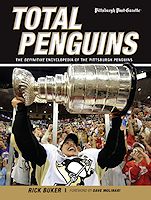 available at TriumphBooks.com, Amazon.com, and BarnesandNoble.com