After reading Phil Krundle's passionate, well-thought, and superbly crafted feature on the state of the Penguins (and coach Dan Bylsma), I almost didn't post this piece. It's not nearly as comprehensive as Phil's, but it represents a different point of view. In that spirit I decided to post it:
I never thought I'd see the day when the Penguins organization embraced being second best. Certainly not with Mario Lemieux at the helm.
That's why I had a hard time believing my ears this past Wednesday when GM Ray Shero attributed his team's early playoff exits to parity. Maybe I'm taking his comments out of context. But it sure sounded like Shero was rationalizing the Pens' postseason failures instead of taking a hard look at the root causes. Perhaps if he had, he wouldn't have been so quick to offer coach Dan Bylsma a two-year contract extension.
It's difficult to explain Shero's unwavering confidence in Bylsma. It's not as if the 42-year-old coach was leading a bunch of ham-and-eggers this spring. This was a deep and talented team—favored by many to win the Stanley Cup.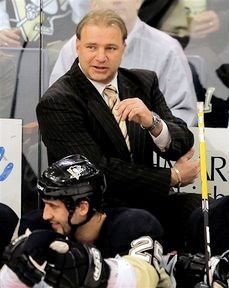 Michel Therrien should've been so fortunate. Eight months after guiding a rising young Penguins squad to the Finals in 2008 (seven months after signing a contract extension) Shero gave him the boot. Granted, the team was in the midst of a desperate slide and needed a change. But there are many—including myself—who feel Therrien laid the structural foundation for the 2009 Cup winners.
Back to Bylsma. It's not that he doesn't possess many admirable qualities. He's a genuinely good guy. His players love him. He's popular with the fans. He represents the franchise well. He's enjoyed a ton of regular-season success—and has a Jack Adams Award on his mantle as proof.
In a way he reminds me of former University of Pittsburgh football coach Dave Wannstedt. A "Pittsburgh guy" through and through, Wannstedt was a wonderful recruiter and ambassador for the Pitt football program. He wasn't a great coach and wasn't going to lead the Panthers to a national title, but that wasn't the expectation.
It's a different dynamic with Bylsma and the Pens. In each of the past four seasons the black and gold have been touted as legitimate Cup contenders. And each year the team has gone belly-up in the playoffs.  Give the Bowling Green grad a pass for 2011, when the Pens lost to Tampa Bay without big guns Sidney Crosby and Evgeni Malkin. However, you can't absolve him of blame for the other postseason flops.
Kevin Pawlos, a prominent local amateur player and former teammate of Boston defenseman Matt Bartkowski, said the Penguins never adjusted to the Bruins in the recent Conference Finals. They kept trying to beat Boston's 1-2-2 with stretch passes, a tactic that failed miserably. Along those lines, who can forget our dreadful penalty killing against Philadelphia last year? The penalty-killers chased Philly's point-men all series long (with nary an adjustment) and got burned to the tune of a dozen power-play goals.
That's Bylsma's modus operandi…and Achilles Heel. He only knows one style. While opposing coaches like Boston's Claude Julien work to get favorable match-ups, the Pens skipper is notoriously reluctant to make adjustments. It's puck-possession or bust.
It's one thing to stick to your guns. It's another matter entirely to stick to your guns when what you're doing doesn't work. That, I believe, is the definition of insanity.
So, for that matter, is extending the contract of a coach who has yet to truly prove he can win in the playoffs.
*Be sure to check out Rick Buker's books,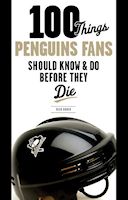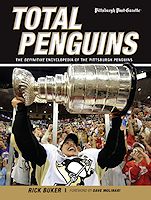 available at TriumphBooks.com, Amazon.com, and BarnesandNoble.com