Before I begin, I must confess that it pained me to write this piece. The last thing I want to do is be hard on a player—in this case Penguins goalie Marc-Andre Fleury—when he's down. Not only is Fleury one of the longest tenured Penguins—his career dates back to 2003-04—but he's been such a huge part of the team's success. Plus, he seems like such a kind and gentle soul.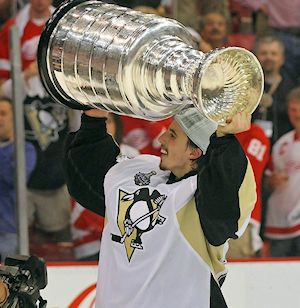 You can be sure nobody felt worse about the black and gold's Game 4 collapse than "Flower." You could see it in his posture as he stood helplessly on the bench after allowing the back-breaking sixth goal on a failed poke check. No one wants to cost his team a playoff game.
Yet that's precisely what happened in Uniondale on Tuesday night. If Fleury didn't turn in the worst performance of his checkered playoff career (six goals allowed on 24 shots), it certainly was in the bottom five. And that's saying something considering some of his more recent efforts.
It truly was painful to watch Fleury struggle as another third-period lead slipped away. Whatever mojo he established during the fabulous Cup run of 2009 seems to have vanished into thin air.
It's difficult to pinpoint exactly what's wrong. Despite his impressive regular-season numbers, a lack of confidence seems to be an issue. Facing fast, skilled teams like last year's Flyers and the Islanders certainly hasn't helped his psyche. At times it's like the Flower's tending goal in a shooting gallery.
But I think the root of Fleury's problems stem from his style. His biggest flaw—an inability to control rebounds—seems to work in his favor during the regular season, when the pace is a little slower. The pucks popping off his pads actually serve to jump-start the Pens' transition game—almost like a first pass.
However, during the postseason when the speed and intensity is ratcheted up several notches, his inability to control the puck becomes a liability. It's part of the reason why the Pens seem so disorganized in their own zone—like so many crazed pinballs. Fleury isn't able to control and/or slow the tempo of a game.
Game 4 was a classic example. The Penguins were trying to protect a 3-2 lead going into the second intermission. About 90 seconds before the buzzer the Islanders started to bring some heat. As they continued to apply pressure you could see the Pens begin to wilt.
Fleury had a golden opportunity to stop play and give his mates a breather when Travis Hamonic snapped a routine shot from the right point into his pads.
Let's pause for a moment. Picture how Devils great Martin Brodeur might react in a similar situation. He'd glove the puck to get a whistle. Or smother the puck to get a whistle. Or shoot the puck into the players' bench to get a whistle. Anything to let the air out of an opponent's attack.
Fleury did none of the above. Instead, he allowed the puck to skip off his pads, where it was swept up in traffic. Kyle Okposo flung a blind backhander off the end boards that somehow trickled in. Another Fleury Folly—another blown lead.
Thank goodness the Penguins have a viable option in Tomas Vokoun. They desperately need a change of pace. While I'm not predicting the 36-year-old Czech will win the Conn Smythe Trophy, I think he'll be a stabilizing presence.
As for No. 29? Once Fleury gets over the sting of being benched, I think a break can only do him good. Perhaps a few sessions with his old guru, Gilles Meloche, might help, too. You never know when the Pens will need him again.
*Be sure to check out Rick Buker's books,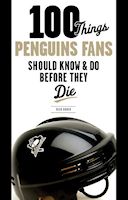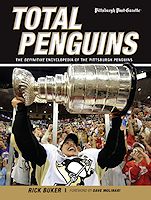 available at TriumphBooks.com, Amazon.com, and BarnesandNoble.com