I've written on numerous occasions that the Penguins need to be bigger and tougher in order to compete for the Stanley Cup. While I still feel the black and gold would benefit from some extra beef up front, the team's collective heart is plenty big enough.
Last night's 4-1 victory over Detroit was one of the most courageous efforts I've witnessed in my 40-some years as a Penguins fan. When adversity threatened to knock the team for a loop, it responded with the ferocity of a pit bull terrier.
Entering the contest with a burgeoning injury list that included their top four defensemen and key forwards Beau Bennett and Tanner Glass, the Pens were about as banged up as a club could get. Adding insult to injury, they also were without the services of suspended sniper James Neal.
As if that weren't trouble enough, Deryk Engelland received a match penalty for a borderline hit on Detroit's Justin Abdelkader near the end of the first period. Not only were the Pens forced to kill off a five-minute penalty, they had to perform the feat with only five defensemen, four of whom had all of 130 games of combined NHL experience. For good measure Evgeni Malkin—playing like a man possessed in the midst of a three-point night—was knocked out of action not once but twice, the last time with a scary leg injury.
The Penguins didn't waver. Displaying remarkable resilience and resolve, they skated with a purpose and fire rarely seen during the regular season. Leading by example, captain Sidney Crosby scored two huge goals. The undermanned defense of Matt Niskanen, Simon Despres, Robert Bortuzzo, and rookies Olli Maatta and Brian Dumoulin, circled the wagons around No. 1 star Jeff Zatkoff (28 saves).
Other heroes included Chris Conner, who continued to make a strong bid for regular third-line duty with his all-out hustle, and scrappy Joe Vitale, who picked up an assist in his second straight game filling in at wing. Rugged Zach Sill dished out four hits while centering the fourth line.
Coach Dan Bylsma and his staff deserve a ton of credit for keeping the team focused and on course despite the plague of injuries. Likewise, give GM Ray Shero a pat on the back for providing the organizational depth necessary to plug the gaps.
But give the players a shout-out, too, for their grit, determination, and absolute willingness to pay a price under the most difficult of circumstances—traits that will serve the Pens well come playoff time.
*Be sure to check out Rick Buker's books,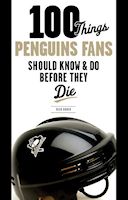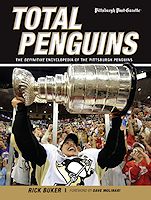 available at TriumphBooks.com, Amazon.com, and BarnesandNoble.com