Going into trade deadline day today you would be hard pressed to find a deeper roster than that of the Pittsburgh Penguins. Their first two lines could fill an All-Star team.  Penguins GM Ray Shero added yet another player to the Penguins and once again did it without losing a roster player only a conditional 6th or 7th round pick.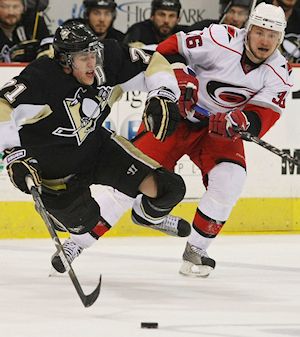 30 year old, 5'11 center or left wing, Jussi Jokinen had fallen out of favor with the Carolina Hurricanes this year.  His 6 goals in 5 assists in 33 games didn't mesh well with the $3 million in salary he was receiving.   The Carolina Hurricanes also had just over paid for Alexander Semin and were probably looking for a bit of salary relief.
What this means for the Penguins:
As for now, Jussi Jokinen, only 3 years removed from a 30 goal season will most likely get a tryout as center in between Kunitz and Dupuis on the Penguins top line. Once Crosby returns he will most likely be filling in a role on the already convoluted 3rd and 4th lines of the Penguins.  The Penguins options for a third line at that point will be ridiculous.  Brandon Sutter, Jussi Jokinen and Brenden Morrow would be a dream third line.  The Forth line could be Vitale, Kennedy & Cooke or any number of combinations. Players will be fighting for positions.
"His versatility is really important to us," Shero said.  Knowing the incredible amount of injuries the Penguins have sustained over the last few playoff seasons, having a "utility" forward in the lineup will only bolster the Penguins chances.
What this means in the future:
There are also big contract implications.  Jokinen is signed already for next year to a 3 million dollar contract.  The salary cap will be being lowered 6 million dollars next yer.  Long time Penguins Matt Cooke, Pascal Dupuis and Craig Adams who are all unrestricted free agents next year will all be fighting for a spot salary wise.  Also The Penguins will be looking to sign additions onto Evgeni Malkin and Kris Letang's contract.
It it very doubtful that Evgeni Malkin will be moved if he is alright taking a Sidney Crosby like contract.  If Jokinen produces and works out for the Penguins, he may be a shoe in to fill one of the top roster spots that will be left over.  Depending on Letang's contract demands there is a good chance he will be odd man out.