It sure is a wonderful time to be a Penguins fan. With a little help from friends Pascal Dupuis and Chris Kunitz, Sidney Crosby has reestablished himself as the finest player in the game. Our boys are making mincemeat out of the rest of the NHL to the tune of 14-straight wins. They've allowed only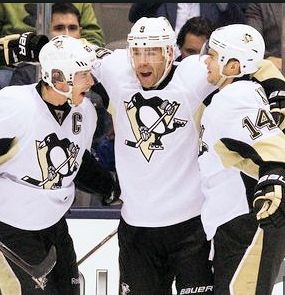 9 goals in the past 10 games—including three shutouts!
Heck, when Pens GM Ray Shero bagged three of the hottest commodities on the trade market—Jarome Iginla, Brenden Morrow, and Douglas Murray—a week before the trade deadline, I felt positively euphoric. How can this team not win a Cup?
Then a little warning bell sounded from somewhere deep in my memory banks. Perhaps it was all the comparisons to the 1992-93 team that caused an uneasy feeling in the pit of my stomach.
It's hard to describe to younger fans just how good that Penguins team was. Talk about loaded! At the very peak of his abilities, Mario Lemieux tallied 69 goals while centering a line for skilled bangers Kevin Stevens (55 goals) and Rick Tocchet (48 goals). The second line featured the redoubtable Ron Francis (100 points) skating between speedy rookie Shawn McEachern (28 goals) and sniper Joe Mullen (33 goals). Jaromir Jagr piled up 34 goals and 94 points while freelancing between lines. Hall-of-Famer Larry Murphy (22 goals) and the original unsweetened Swede, Ulf Samuelsson, spearheaded a rugged, veteran defense. Tom Barrasso led the league with 43 wins and was a tower of strength in goal.
Inspired by Mario's heroic early return from radiation treatments for Hodgkin's disease, the Pens ran off an NHL record 17-game winning streak down the homestretch. When they destroyed a tough, competent New Jersey team by scores of 6-3 and 7-0 in their first two playoff games, the black-and-gold seemed invincible.
I remember thinking it would be nearly impossible for any team to stand up to this juggernaut. They were playing at a level so much higher than any other club—and possessed so many weapons—they truly belonged in a league of their own. That's how good they were. A third straight Stanley Cup was all but in the bag.
The Pens wavered slightly in Game 3 before losing Game 4. It was their first loss in 52 days; their first playoff loss in 15 postseason contests. They quickly rebounded to polish off the Devils in Game 5.
And then it happened. The wheels of this mighty team—which at times looked as if it might never lose another game—suddenly fell off. Far from being daunted by their powerful foe, the spirited young New York Islanders took the play to the Penguins for a full seven games. And, much like a latter day David slaying the giant Philistine, Goliath, they prevailed.
Words can't express what a shock it was. I mean, there was no way that Penguins team could lose—certainly not to a bunch of upstarts like the Islanders. Yet there was no erasing the terrible image of David Volek blasting the puck past Barrasso on a 3-on-1 break in overtime of Game 7 to clinch the series for the Isles. As the Pens' goalie would later say, "We put ourselves in a position where anything could happen and the worst did."
Why am I writing about this now? Call it a cautionary tale. As stacked as our present Penguins are—and as excited as I am about their chances—there are no guarantees when it comes to the playoffs. Even with Iginla and Co. in tow, a stiff challenge could come from a physical Boston Bruins team or the speedy Carolina Hurricanes, who bear more than a passing resemblance to those 1992-93 Islanders.
The bottom line is, it's a long and winding road to the Stanley Cup, filled with pitfalls, obstacles and challenges. The Penguins will have to surmount them all for the right to be crowned champions.
*Be sure to check out Rick Buker's books,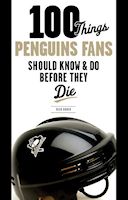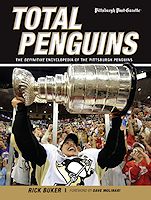 available at TriumphBooks.com, Amazon.com, and BarnesandNoble.com