There's an old adage in sports—ride the horse that brung ya.' (Or something like that.) Thank goodness Penguins coach Dan Bylsma paid it no mind as filled out his lineup card for Thursday's critical Game 5 matchup with the pesky New York Islanders.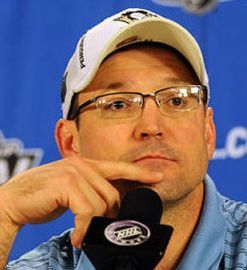 I've been critical of the Pens' skipper in the past for what I felt were questionable personnel moves. But last night he made the Dean's List.
First and foremost, Bylsma had the courage to bench a wilting Marc-Andre Fleury in favor of backup goalie Tomas Vokoun. He also had the good sense to announce the switch well in advance so the team had time to mentally prepare.
Making his first playoff start since 2007, the 36-year-old Czech was terrific. Not only did Vokoun slam the door on the Islanders, but his steadiness and composure between the pipes rubbed off on the rest of the team.
That move alone would've earned Bylsma straight A's. However, he made several other adjustments that reaped significant dividends. The Bowling Green grad shifted Jarome Iginla to right wing on a line with Sidney Crosby and Pascal Dupuis. "Iggy" seemed more comfortable manning his natural position and displayed good chemistry with Sid. They combined to freeze Isles goalie Evgeni Nabakov on No. 87's back-breaking (and breathtaking) third goal.
Bylsma wasn't finished. He plugged Chris Kunitz into his old slot beside Evgeni Malkin and James Neal, thus reuniting the high-octane "Firing Line" that lit up the opposition last season like General Sherman's troops putting the torch to Dixie. Each member of the line was a plus-1. Geno, in particular, seemed rejuvenated by "Kuny's" presence.
In a pair of minor—but no less important shuffles—Bylsma scratched Tanner Glass and Jussi Jokinen in favor of feisty energy players Tyler Kennedy and Joe Vitale. The buzzsaw twins served notice that the visitors were in for a long evening when they scuffled with Isles d-men Travis Hamonic and Brian Strait early on. "T.K." punctuated his return with a spectacular breakaway goal midway through the second period to open the scoring.
The final change—replacing struggling veteran Mark Eaton with coltish defender Simon Despres—was a bit of a gamble. It paid off handsomely, as Despres used his size and mobility to help thwart the Islanders' attack.
The Pens aren't out of the woods yet—not by a longshot. There's still a Game 6 to be played in Uniondale on Saturday and the Islanders surely will be skating with the knife-blade edge of a team facing elimination. But if Bylsma keeps pushing the right buttons, I like our chances.
*Be sure to check out Rick Buker's books,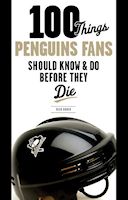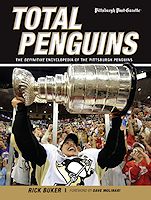 available at TriumphBooks.com, Amazon.com, and BarnesandNoble.com