The Penguins didn't hold a special press conference to announce his signing. Nor did his arrival on February 25 create a huge media buzz. Yet when the final puck drops on this lockout-shortened season the addition of defenseman Mark Eaton may well be regarded as one of GM Ray Shero's savviest moves.
Eaton isn't the type of player who sticks out on the ice. You don't see him making flashy plays or taking the puck on end-to-end rushes. In fact, when the 35 year old is on his game you barely notice him.
Indeed, his stock in trade is sound play in his own end. In his first go-round with the Pens, Eaton was a steady if unsung contributor during the march to the Cup in 2009. He and fellow stay-at-homers Rob Scuderi and Hal Gill provided a defensive conscience that sometimes is lacking among the current crop of blue-liners.
Thus far, Eaton's been a perfect fit. In the five games he's suited up since rejoining the black and gold, he's contributed his usual rock-solid defense while registering a plus-4. Not coincidentally, the Penguins won each of those games.
"I just want to help any way that I can to help this team win," he said in a recent interview with Shelly Anderson of the Pittsburgh Post-Gazette. "If that's being an eighth guy, a sixth guy, whatever it is, I'm just going to work and try and do what I can."
*Be sure to check out Rick Buker's books,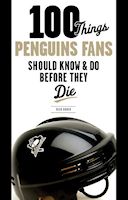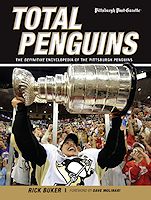 available at TriumphBooks.com, Amazon.com, and BarnesandNoble.com