When the Penguins and Flyers resume the Commonwealth Cold War in Philadelphia on Thursday night, it'll be the definitive case of two foes headed in opposite directions. While the Pens have zoomed to the top of the Metropolitan Division, the Flyers are off to a ghastly 1-6 start.
Indeed, the Pens are firing on all cylinders while Philadelphia seems to be imploding. In a move that smacked of desperation, Philly GM Paul Holmgren fired highly respected coach Peter Laviolette after three games. The team's big off-season addition, Vincent Lecavalier, is on the disabled list, joining noted Penguin-killer and all-around villain Scott Hartnell. Claude Giroux, who looked like the heir apparent to succeed Sidney Crosby as the game's top player a couple of seasons ago, has two lone assists.
So why am I worried? Given the riveting intensity of the rivalry, there's tremendous potential for mayhem. No stranger to goon-squad tactics, new Flyers coach Craig Berube terrorized the black and gold during his playing days. Philly is one of the few clubs to routinely dress an enforcer (Jay Rosehill), not to mention a feisty hatchet man (Zac Rinaldo). Luke Schenn and Wayne Simmonds aren't exactly shrinking violets, either.
This isn't to suggest the Penguins aren't capable of standing up for themselves. To the contrary, Deryk Engelland, Tanner Glass, and Joe Vitale all are energetic and capable fighters. Heck, even Evgeni Malkin can throw 'em pretty fair.
My concern lies in what happens if the game gets out of hand on the scoreboard. If the Pens grab a big lead, will Rinaldo be tempted to retaliate with a well-placed elbow to Sid's recently mended jaw or a wayward slash to Geno's hands? Heaven forbid we lose to the Flyers and breathe new life into our hated adversary.
Hopefully, my fears will prove unfounded and our boys will keep on rolling. However, when it's the Pens versus the Flyers you just never know.
*Be sure to check out Rick Buker's books,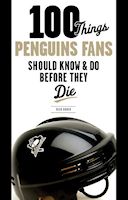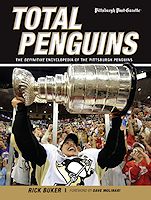 available at TriumphBooks.com, Amazon.com, and BarnesandNoble.com