As the Penguins round the quarter pole of the 2013-14 season, I thought it might be an appropriate time to review the Top Five Pluses (and Minuses) so far.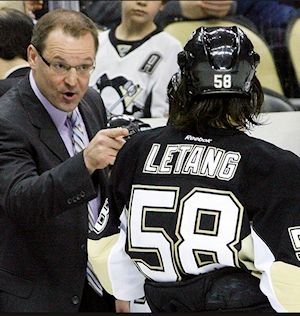 PLUS
Marc-Andre Fleury: "Flower" has bounced back from last season's postseason meltdown to perform brilliantly in goal. Although he still gives up a juicy rebound or two, Fleury's improved his fundamentals and positioning while still flashing those extraordinary reflexes. It's a good thing, too, because backup Tomas Vokoun remains on the IR recovering from a blood clot, and coach Dan Bylsma seems reluctant to play unproven Jeff Zatkoff. Through 21 games, Fleury gets my vote as the team's MVP.
Chris Kunitz: Next to Fleury, no player's had a more positive impact than Kunitz. One of the few Penguins forwards to consistently crash the net, the feisty little winger has earned his keep by banging home nine goals, mostly on rebounds and deflections. Solid defensively as well, "Kuny" leads the team with a plus-11 rating. Wish the Pens had more guys with his heart and drive.
Sidney Crosby: Fully healed from last season's fractured jaw and the neck/concussion problems that threatened to derail his career, Crosby has reclaimed his customary spot atop the league's scoring race. Equally at adept working down low as he is scoring off the rush, Sid's tallied his share of goals from the dirty areas this season.
Jussi Jokinen: Almost an afterthought when acquired at the 2013 trade deadline, Jokinen's been a valuable and underrated performer since his arrival. The crafty native of Finland has provided critical offensive punch while helping to fill the goal-scoring vacuum created by James Neal's early-season injury.
Team Defense: In a surprising development, the team defense has been remarkably strong through the first quarter. Thanks in part to assistant coach Jacques Martin's newly installed left-wing lock, Fleury's superb play, and the solid work of veteran defenders Paul Martin, Brooks Orpik and Rob Scuderi (not to mention a resurgent Matt Niskanen and super rookie Olli Maatta), the Pens presently rank eighth in the league in fewest goals allowed. An assist goes to lunch-pail forwards Craig Adams, Tanner Glass, and Joe Vitale for their diligent work in the defensive zone.
MINUS
Evgeni Malkin: Since his dominating MVP performance of 2011-12, Malkin's been mired in a strange offensive funk. To his credit, Geno's cut down on the blind drop passes and foolish penalties that marred his play last season, while giving a more consistent effort. And his offensive malaise hasn't hurt his playmaking (a team-high 17 assists). However, he's tallied only a dozen goals in 52 games since January—and just three so far this season. Unthinkable for a player who lit the lamp 50 times just two years ago.
Kris Letang: There's no defensive structure the gifted blueliner can't disrupt—including the Pens'. In fairness to Letang, he started the season on the IR and has been scrambling to find his groove. His intended partner, Scuderi, went down with a broken ankle just as "Tanger" was set to return. Still, the speedy defender continues to reinforce his reputation as a "two-way player"—one who breathes life into his team in the offensive zone (four goals) while killing it in his own end (minus-6).
Pascal Dupuis: For the past two seasons, "Super Duper" has been hockey's best bargain. After signing a new four-year deal over the offseason, however, he seems to be reverting to the player he used to be—a hard-working, defensively reliable winger who has trouble providing consistent offense. The Pens need more from the popular veteran.
Matt D'Agostini: It probably isn't fair to label D'Agostini an early disappointment. After all, the free-agent winger began the season on IR and has only played in a half-dozen games. During that time, however, he's done nothing to make Penguins fans forget Matt Cooke or even Tyler Kennedy, the third-line mainstays who departed over the offseason.
The Third Line: Speaking of the third line, while nobody figured it would be a snap to replace Cooke and Kennedy, no one thought it would morph into a black hole, either. Center Brandon Sutter's done a decent job, but he's had a revolving door of linemates to play (contend) with. Some, such as injured veteran Chuck Kobasew and speedy rookie Jayson Megna have performed well. Others, such as the aforementioned D'Agostini and the departed Dustin Jeffrey, haven't fared so well.
*Be sure to check out Rick Buker's books,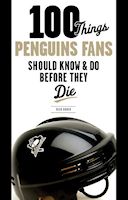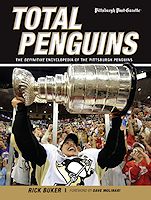 available at TriumphBooks.com, Amazon.com, and BarnesandNoble.com