As he lay dying of pneumonia in 1920, Notre Dame All-American George Gipp called to his coach, Knute Rockne, who was keeping a vigil by his bed side. "Some time, Rock," he whispered, "when the team is up against it, when things are wrong and the breaks are beating the boys, ask them to go in there with all they've got and win just one for the Gipper."
Although it may seem in poor taste to play off one of the most touching moments in sports history, I have a bizarre request for our Penguins. How about losing one for the Gipper?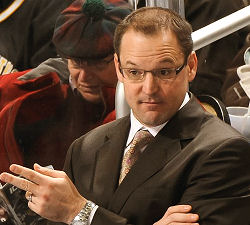 No, I'm not really suggesting the Pens go out and tank games like they were accused of doing back in 1983-84 when they were scrambling to draft franchise saver Mario Lemieux. But I sure do wish they could figure out how to bottle their present mojo (13 wins in a row and counting) and save it for the postseason.
At the risk of sounding like a worrywart, I'm fearful the Pens are peaking too soon. Last year's squad went on a similar tear at the 2/3rds pole (11-straight victories in February and March) before bowing out in the first round of the playoffs.
It's the Law of Gravity … and sports teams. What goes up must, eventually, come down.
Nor does recent Stanley Cup history favor front runners. All three Penguins' Cup winners emulated the tortoise through the early going before catching a wave at the trade deadline and riding it all the way through the playoffs, building momentum with each series as they rolled along.
Contrast that with the 1992-93 juggernaut—arguably the greatest team in franchise history. That season the Pens won 56 games, earned an eye-popping 119 points (both club records) and captured the President's Trophy for regular-season supremacy. They finished the year with an NHL-record 17-game winning streak. And, they flamed out in the second round of the playoffs.
It's up to Penguins coach Dan Bylsma and assistants Tony Granato and Todd Reirden to keep the current team locked and loaded down the homestretch and into the postseason. While I've been critical of the black-and-gold skipper in the past, I think he's up to the task.
Much to Bylsma's credit, he's got his troops playing the type of stingy defense (only 9 goals against in the past 9 games) that wins championships. With Sidney Crosby leading a strong supporting cast that's been reinforced by recent acquisitions Brenden Morrow and Douglas Murray, perhaps the Pens really can defy gravity and bring home another Cup.
*Be sure to check out Rick Buker's books,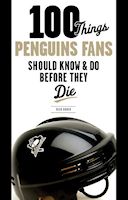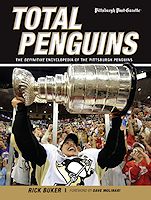 available at TriumphBooks.com, Amazon.com, and BarnesandNoble.com