Recently, the Penguins Ray Shero was named General Manager of the Year. Long regarded as one of the top executives in hockey—if not the entire sporting world—it earned the popular GM some richly deserved recognition.
In light of the recent award I decided to compile a list of Shero's major trades, along with (very) subjective grades. To qualify, players involved had to play at least one game for the Pens. The table doesn't include the recent Harry Zolnierczyk for Alex Grant deal.
I apologize for the funky formatting.
| | | | | | |
| --- | --- | --- | --- | --- | --- |
| Season | Date | Team | Acquired | Traded | Grade/Comment |
| 06-07 | July 19 | Nashville | Dominic Moore, Libor Pivko | 3rd round choice 2007 | [B-] Depth move |
|   | July 20 | San Jose | Patrick Ehelechner, Nils Ekman | 2nd round choice 2007 | [D] Ekman fizzled |
|   | Feb. 27 | Minnesota | 3rd round choice 2007 | Dominic Moore | [B] Decent return |
|   | Feb. 27  | Florida  | Gary Roberts  | Noah Welch  | [A] "Scary Gary" a gem |
|   | Feb. 27 | Phoenix | Georges Laraque | Daniel Carcillo, 3rd round choice 2008 | [B] Bona fide heavyweight in BGL |
|   | Feb. 27 | Florida | Joel Kwiatkowski  | 4th round choice 2007  | [C-] Kwiatkowski played one game |
| 07-08  | June 22 | Atlanta  | 3rd round choice 2007  | Chris Thorburn  | [A] Great return for role player |
|   | Feb. 26 | Toronto  | Hal Gill  | 2nd round choice 2008, 5th round choice 2009 | [A] Gill shutdown defender |
|   | Feb. 26 | Atlanta | Pascal Dupuis, Marian Hossa   | Colby Armstrong, Erik Christensen, Angelo Esposito, 1st round choice 2008 | [A+] Terrific value for two so-so players and a flop |
| 08-09  | June 28  | Tampa Bay  | 3rd round choice 2009  | Ryan Malone, Gary Roberts | [B-] Two UFAs for a pick |
|   | Nov. 16 | Dallas  | Philippe Boucher  | Darryl Sydor  | [B] Boucher underrated |
|   | Dec. 19 | St. Louis  | Future considerations  | Jonathan Filewich  | [C] Filewich never panned out |
|   | Jan. 17  | Edmonton   | Mathieu Garon   | Danny Sabourin, Ryan Stone  | [A-] Proven backup for minor leaguers |
|   | Feb. 26  | Anaheim   | Chris Kunitz, Eric Tangradi  | Ryan Whitney   | [A] First-liner for injury-prone defender |
|   | Mar. 4 | NY Islanders | Bill Guerin | 3rd round choice 2009  | [A+] Guerin driving force for Cup run |
| 09-10  | Feb. 11 | St. Louis  | Steve Wagner  | Nate Guenin  | [C] Swap of AHL defensemen |
|   | Mar. 1  | Florida  | Jordan Leopold  | 2nd round choice 2010  | [B-] Leopold good down stretch |
|   | Mar. 2 | Toronto  | Alexei Ponikarovsky  | Luca Caputi, Martin Skoula | [C+] Everyone flopped |
| 10-11  | Feb. 21  | Dallas  | James Neal, Matt Niskanen | Alex Goligoski  | [A] Classic Shero two-fer |
|   | Feb. 24  | Ottawa  | Alexei Kovalev  | 7th round choice 2011  | [B-] Can't-lose deal |
| 11-12  | Nov. 8  | Columbus  | 4th round choice 2012  | Mark Letestu  | [B-] No room for "Tester" |
| 12-13  | June 4  | Washington  | Tomas Vokoun  | 7th round choice 2012  | [A+] One of Shero's best |
|   | June 22   | Carolina   | Brian Dumoulin, Brandon Sutter, 1st round choice 2012 | Jordan Staal   | [A+] Staal wanted out  |
|   | June 22   | Phoenix   | Marc Cheverie, Harrison Ruopp, 3rd round choice 2012 | Zbynek Michalek   | [B+] Nice return for "Zibby"  |
|   | Feb. 6   | Anaheim   | 5th round choice 2014   | Ben Lovejoy   | [C+] "Reverend" played well for Ducks |
|   | Feb. 13  | Winnipeg  | 7th round choice 2013  | Eric Tangradi  | [B] Fair return for underachiever |
|   | Mar. 24 | Dallas  | Brenden Morrow, 3rd round choice 2013 | Joe Morrow, 5th round choice 2013 | [B-] Overpaid but worth the risk |
|   | Mar. 25  | San Jose  | Douglas Murray  | 2nd round choice 2013, conditional choice 2014 | [B-] Overpaid but worth the risk |
|   | Mar. 28 | Calgary   | Jarome Iginla   | Ken Agostino, Ben Hanowski, 1st round choice 2013 | [B-] Overpaid but worth the risk  |
|   | April 3  | Carolina  | Jussi Jokinen  | Conditional choice 2013 | [B] Can't-lose deal |
*Be sure to check out Rick Buker's books,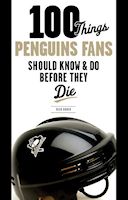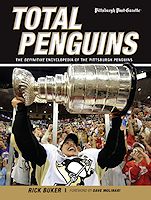 available at TriumphBooks.com, Amazon.com, and BarnesandNoble.com