There was a time when the thought of trading superstar Evgeni Malkin would've seemed so preposterous that it wouldn't have entered my mind. After all, we're talking about a Hart Trophy winner and two-time NHL scoring champ—a player of such singular brilliance and magnitude that he's already carved out a prominent place among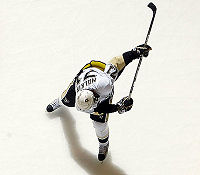 the pantheon of Steel City hockey legends at the tender age of 26.
Nor am I advising that it's time to make such a radical move … or even that the Penguins should consider anything so drastic. But more and more people are paying lip service to the notion of trading Geno.
The idea first was suggested to me by a hockey buddy last summer. My friend—whose identity I'll keep to myself—proposed that Pens GM Ray Shero trade the newly crowned MVP instead of Jordan Staal.
Coming off a Lemieux-esque season, Malkin's value would never be higher. In addition to freeing up tons of cap space, my friend pointed out that dealing the rangy Russian surely would reap a harvest of draft picks and prospects. Such a move also would solve the Pens' age-old dilemma of finding a scoring winger for Sidney Crosby. With Malkin gone, you simply slip Sid between Geno's old wingers, Chris Kunitz and James Neal.
There would be other potential pluses. At age 23, Staal was just beginning to mature, not to mention the fact that he possessed skills and attributes (size, reach, defensive acumen) that might serve the Pens better over the long haul.
I listened to my friend's arguments with half an ear. Yes, they made sense in a way. However, the mere thought of parting with the game's most dynamic player made me shudder. It became a moot point weeks later when Shero peddled Staal to Carolina for a package that included Brandon Sutter.
Case closed, right? Well, not quite. Malkin, it seems, is having increasing difficulty playing 1A to Crosby's 1. Long gone are the days of the "Two-Headed Monster," when the duo blended together as seamlessly as peas and carrots in a fresh pot of Irish stew. The two supernovas often appear to be out of sync when sharing the same patch of ice.
It's hard to blame Malkin for chaffing under the present circumstances. Last season, he was the toast of the hockey world—the most celebrated player in the game. This year, Sid comes back and Geno's not even the best player on his team. That would be a tough pill to swallow—emotionally and mentally—for a young man still in his mid-20s.
Ron Francis and Jaromir Jagr experienced a similar roller coaster back in the 1990s. Depending on the health of reigning superstar, Mario Lemieux, Francis repeatedly shifted back and forth between No. 1 and No. 2 center. To the classy old pro's everlasting credit, he handled the adjustment flawlessly. It's more difficult to gauge how No. 68 dealt with Mario's comings and goings, although "Le Magnifique's" final comeback in 2000 seemed to presage Jagr's departure.
Again, I'm not suggesting that Shero deal Malkin at the trade deadline. Such a move surely would H-bomb the chemistry on a team that suddenly seems to have a legit shot at the Cup. But down the road? Like any great artist, perhaps it's time for Geno to have a canvas of his own.
*Be sure to check out Rick Buker's books,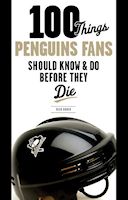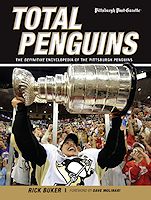 available at TriumphBooks.com, Amazon.com, and BarnesandNoble.com