There are few things more gratifying than erasing a four-goal lead against a hated rival on their own ice, then proceeding to go on to beat them. One thing that is better, though, is coming back to win against a team with a suffocating D by watching your game systematically dismantle theirs with a few small tweaks in the waning minutes. Let's face it, the Flyers win was an emotional boost, but the Flyers aren't nearly the team the Boston Bruins are.
F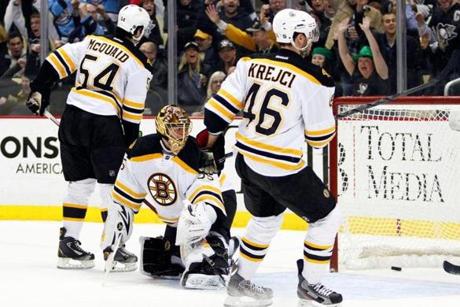 or 53 minutes of this game I yelled, swore, threw stuff, and coached from my couch in pure frustration. The Bruins' system was working. Our game was giving us some chances, but nothing was going our way until Chris Kunitz (naturally) finally cracked Khudobin, whose name sounds enough like Qdoba to make me want a knock-off Mexican lunch today. From there the coaching decisions and frighteningly efficient goal-scoring machine the Pens can be did the rest.
Why was this the most meaningful win of the season to me? Because the Pens came from behind to beat a hot and highly touted team that had them bottled up and frustrated a lot of the time. Because the Pens played through all that frustration without crumbling or taking too many dumb penalties. Because the Pens relied on hockey IQ and skilled execution to win. I don't know if the team has that monkey of last season's playoffs off its back yet, but this game more than any other this season proves to me that it's certainly loosened its grip. Our boys are playing like they have something to prove, and I'm loving every second of it — even the really, REALLY frustrating ones when there is NO ONE IN FRONT OF THE NET! Sorry. Flashback to last night.