The Penguins have traded promising defensive prospect and 2011 first round draft pick Joe Morrow to the Dallas Stars in return for veteran captain of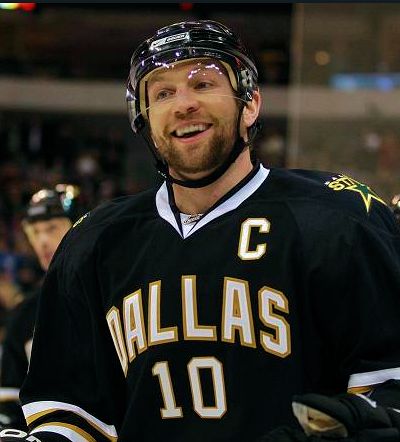 the Stars Brenden Morrow.    The trade reads as this:  Pittsburgh gets Brenden Morrow and Dallas' 3rd-round pick in 2013 for prospect Joe Morrow and Penguins 5th-round pick 2013.
To make room for Brenden Morrow the Penguins will send winger Trevor Smith back down to the Baby Penguins.
If and when Evgeni Malkin returns from IR the Penguins will have to make a big decision.    The Penguins will either have to make another trade, send Simon Despres or Beau Bennett back to the WBS Penguins or put another promising defensive prospect Robert Bortuzzo on waivers.  Unfortunately winger Beau Bennett who has been playing some inspired hockey will most likely be odd man out.
Brenden Morrow has been in a downward slide the last few seasons. Having only 6 goals and 5 assists in 29 games this season.  What Brenden Morrow brings to the table is strong Billy Guerin like leadership and as PenguinPoop friend NHLNET analyst Craig Button said "Here is all you need to know about Brenden Morrow. He has a winner's mentality and plays to win."
Brenden Morrow was drafted 25th overall by the Stars in 1997.  Defensive prospect Joe Morrow was drafted 23rd overall in 2011.
This trade says that the Penguins are playing for now not the future.  Sidney Crosby and Evgeni Malkin are in their prime and Penguins GM Ray Shero would like to see another Cup or two before their prime is up.  The Penguins still have the cap space to land Jarome Iginla.
Brenden Morrow's last few years:

.