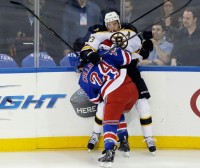 As vile as it tastes. As dirty as you feel. As much as this goes against every fiber of your Penguins-fan being… Cheer for the Rangers tonight. Or at the very least hope for a mutual massacre that results in a 1-0 Rangers win. Why? Because it's the Cup, and that's bigger than my disdain for any division rival.
There is no such thing as a guarantee in the playoffs, and by no means has any team stamped their ticket for the conference finals, but the writing is on the wall for a Pens/Bruins series. The best we can hope for is that we come out of our series unscathed while the Rangers keep the Bruins occupied for a few more games and force them to burn a little more gas before the next round.
I'm already anxious about a showdown with the B's. Coming up against them after a sweep if the Pens have to play one or more games while the Bruins are resting and healing up just adds to it. So send some good vibes to MSG. Just never ever admit to it. We'll all feel better about it that way.