Sidney Crosby worked out with the Penguins conditioning coach and left the ice before the Penguins started their practice this morning. Odds are Crosby will not be playing tonight.  Coach Bylsma usually has the players attend the regular practice if they are playing, though he could make an exception for Crosby.
While it is up in the air whether he will be in the lineup for the first game of the Penguins 2013 playoff run tonight.  If Crosby does return, the Penguins roster possibilities are endless.
Imagine your Penguins Head Coach Dan Bylsma and you just got handed a bonanza of players at trade deadline. All the sudden you have the easiest coaching job in the NHL. Wrong. All of the sudden it is the hardest. Every single action you take has another equally possibly devastating re-action.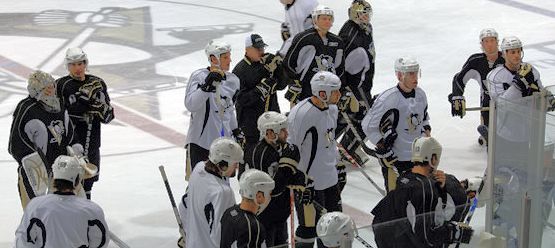 Adding Jussi Jokinen, Brenden Morrow and Jarome Iginla to an already full offensive roster for the Penguins means players will have to sit. Possibly players that have played for the Penguins for a long time, players that have worked hard all season and have earned roster spots or players that sitting them to play one of the new guys means they could try to sign with other teams next year because they were shunned.
Here's how the roster breaks down:
There are six players that will play no matter what unless they are injured. Sidney Crosby, Evgeni Malkin, Pascal Dupuis, James Neal, Chris Kunitz and Jarome Iginla.
There are five guys that would have to have some seriously bad games in order to get benched, Brenden Morrow, Matt Cooke, Brandon Sutter, Jussi Jokinen & Craig Adams.
That means there is one roster position open for Joe Vitale, Tyler Kennedy, Tanner Glass, Dustin Jeffrey & Beau Bennett. Every single one of the five guys has played hard all season.  Every one of them deserves a spot.
Every one has an idea of who they would like to see playing with whom. While who Kunitz should play with seems to be the biggest controversy, you would be hard pressed to find a third and forth line that matched if you had 10 people in a room. You know Coach Bylsma will be taking the first series with the NY Islanders to switch players around left and right to come up with the perfect combinations.
I would like to see three lines of all out offense and the forth line made up of mainly the guys who are penalty killers. The only reason other teams won't go all in with 3 lines of offense is because they can't.  Here is what the Penguins have.  On top of Crosby and Malkin you have three guys that had more goals than the best player on two thirds of the other NHL teams this year.  On top of that you have a two time Rocket Richard Winner/Art Ross Trophy winner and two players who've eclipsed the 30 goal mark in the last few years that the Penguins added to the roster at the deadline.
For me, my roster looks like this.  I know many want Kunitz on Malkin's line, but he has put up way better numbers with Crosby.  Morrow has been working wonders in front of the net screening for Neal and Malkin.
Kunitz – Crosby – Dupuis
Neal – Malkin – Morrow
Bennett – Jokinen – Iginla
Adams – Sutter – Cooke
I also polled a few other writers here at PenguinPoop and here's what they thought:
Disco Stu
Dupuis – Crosby – Iginla
Kunitz – Malkin – Neal
Cooke – Sutter – Morrow
Vitale – Adams – Jokinen

Doug Macray
Dupuis – Crosby – Iginla
Kunitz – Malkin – Neal
Morrow – Jokinen – Cooke
Sutter – Vitale – Glass

Horse
Dupuis – Crosby – Iginla
Kunitz – Malkin – Neal
Cooke – Sutter – Morrow
Glass – Jokinen – Adams

Art Vandelay
Neal – Malkin – Iginla
Kunitz – Crosby – Dupuis
Morrow – Sutter – Cooke
Bennett – Adams – Jokinen

Ginger
Dupuis – Crosby – Iginla
Kunitz – Malkin – Neal
Cooke – Sutter – Morrow
Glass – Jokinen – Adams

Champ Kind
Dupuis – Crosby – Iginla
Kunitz – Malkin – Neal
Cooke – Sutter – Morrow
Glass – Jokinen – Adams
Update Report:  Sidney Crosby will not be playing tonight
Here are the lines that practiced this morning:
Kunitz-Malkin-Neal
Iginla-Jokinen-Dupuis
Morrow-Sutter-Cooke
Glass-Adams-Bennett
It looks like if the above roster works out that Jokinen will replace Bennett/Glass on the Fourth line if Crosby returns and most of the PenguinPoop writers above nailed it.