When the puck drops Wednesday night in downtown Pittsburgh you can throw the 15 game win streak, the finishing first in the Eastern Conference and the Penguins beating the Islanders four out of the 5 games played this season out the window. Get rid of the pre-conceived notion that the New York Islanders are just going to roll over and hand the Pittsburgh Penguins the series. This David versus Goliath act has played before. Yes, the Penguins have amassed an incredible amount of talent on their roster, but there is always that one thing.  Just that one little thing…
The Penguins have never won a playoff series against the Islanders.
Ever.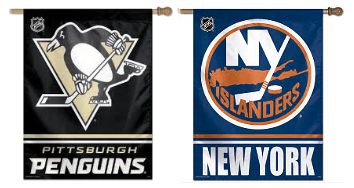 We've put together an incredible group of writers to predict how the series will pan out and at the same time throw a little insight into what the Penguins will have to do to win. Six of the writers have followed the Penguins since the 1970's, two of them have been season ticket holders since then.
First up:

Disco Stu  – Followed the Penguins since 1971.  Frequent PenguinPoop writer & radio host.
As Yogi Berra so infamously said, "It's deja vu all over again"  The last time there was a Penguins team that was this loaded with talent, they faced the Islanders in the playoffs.  It was the infamous 92/93 season, a season in which the Penguins set an NHL record by winning 17 consecutive games. That Penguin team was probably even a bigger favorite to win that series than this year's team is.  They ended up bowing out to the Islanders in that series when, as he has become known in these parts, David "F'n" Volek scored an overtime winner in Game 7 to prevent the Penguins from having the chance to win a third consecutive Stanley Cup.
This year's Penguins' team had a 15 game winning streak and now faces an eight seeded Islanders team who went 11-4-2 in their last 17 games.  The Penguins, on the other hand, went 22-4 in their last 26 games so what we have here are two of the hottest teams in the NHL right now.  The Penguins went 4-1 against the Islanders this year, losing to them back in January and then winning the final four meetings by a combined score of 15 – 5.  On paper, this should be a mismatch of epic proportions.  There are individual Penguins who have more playoff experience than the entire Islanders roster, but NHL playoff games aren't played on paper.  The series' length will most likely hinge, as usual in the playoffs, on special teams.  The Penguins power play was 2nd best in the league with a 24% conversion rate while the Islanders were 15-3-1 this season if they scored a power play goal.
Top to bottom, the Penguins have the edge at just about every position with John Tavares being the only truly threatening member of the Islanders.  I believe with the defensive talent that the Penguins have amassed this year, that they will be able to keep him in check. The Penguins have a lot to prove this year seeing as how they have not won a playoff series since the opening round in 2010.  I'm calling for the Penguins to win this series in 5 games with the loss coming most likely in game 3.  I think after playing five consecutive road games to end the season, and then having to play games 1 and 2 in Pittsburgh, the Islanders will feel like they're running into a buzz saw in Game 1 especially if Sidney Crosby skates out of the tunnel to take the ice.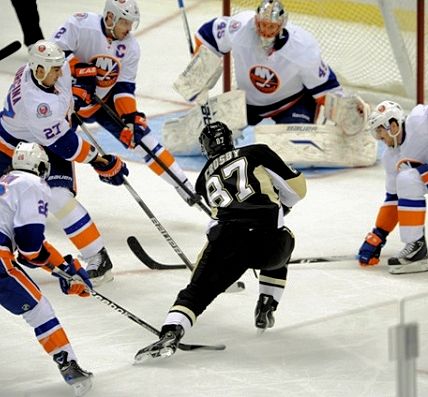 Horse – Season ticket holder since the 1970's also a longtime PenguinPoop writer & radio host.
In one of the worst home games the Pens played this season, they lost to the Islanders 4-1. The next four times they played, the Penguins won all the games by a combined score of 16-5.  I expect the same trend in this series.  The Islanders will come out with a purpose in Game 1.  If the Pens are not prepared to play, the Islanders could steal the first game.  That will be all they will get.  The Islanders have some good young goal scorers in Tavares, Moulson, and Grabner.  The Pens have seasoned veterans, with offensive and defensive talent.  I will take veteran experience over youthful exuberance any time.  Even though the Islanders were very successful down the stretch, that doesn't concern me.  The Penguins were very successful the entire season.  The Pens will complete Leg One of the journey at the Consol Energy Center on May 9th.

Phil Krundle   – Head cheese at PenguinPoop – Pens fan since 1976.
There is one thing that concerns me.  Goaltending.  The Islanders Evgeni Nabokov is a machine right now.  No losses in regulation in all of April, 11 games. On top of that it seems that Nabokov always seems to have Crosby and Malkin's number. Marc Andre-Fleury on the other hand just had his first child less than a week ago.  Is there any way possible he's getting any sleep at home?
Relating the prior Penguins season is an effort in futility.  The 92 Penguins figured they would just get handed the Cup and didn't need to play and were also content with the fact they had just won two Cups.  This years Penguins squad is not only eager and willing to do anything to win the Cup, they also have players fighting for jobs on the team.
This is horrible, but I'm hoping the concussion knocked some sense into James Neal and maybe a few of the new guys to the squad will take heed.  Neal has came out the last two years first round like a bull in a china shop.  He just started hitting everything that moved and completely got away from his game.  He and the others players must just stick to their game.  No playing to the fans by throwing checks that aren't needed.  Do what you do.  For Neal it is just get in position and put the biscuit in the basket.   The same goes for the others, there is nothing to prove. Act like you've been there, play your game and you'll be fine.
I have fallen victim to the hype.  When the Pens can legitimately put together a third line that is Morrow, Jokinen & Iginla, I can't see the Islanders winning a game.

Rick Buker  – PenguinPoop writer who has also written a couple of books – —Total Penguins & 100 Things Penguins Fans Should Know and Do Before They Die.
Based on postseason history, there's no team I'd rather not face than the New York Islanders. The Isles have handed our Penguins three of their most crushing playoff defeats of all-time (1975, 1982, 1993).
This ain't exactly a team of stiffs, either.  Spearheading New York's attack is John Tavares, whose 28 goals were third most in the league. Speedy Michael Grabner (16 goals), Brad Boyes, Josh Bailey, and ex-Pens draft pick Matt Moulson round out a capable bunch of forwards. Their defense—led by Mark Streit—is quietly effective.
Still, I think the Penguins will have more trouble sorting out the nuances of their lineup than they will with New York. I see the Islanders taking one, maybe two games tops. The Pens simply have too much firepower. However, if Marc-Andre Fleury struggles and Isles goalie Evgeni Nabakov heats up, things could get interesting.
 Champ Kind – Season ticket holder since the 70's and PenguinPoop Radio host.
The Pens will approach this series with a patient defense first mentality that will lead them to a series win in 5 games. They will focus on shutting down  John Tavares and I believe will be successful in doing so. The defensive approach will lead to enough transition type goals to win the series. Combine this with the fact that  16 players on the Islanders roster will be playing in their first ever playoff series. Too much for the upstart Islanders to handle.  Nabokov has been brilliant and does have extensive playoff experience. This factor could help extend the series beyond 5 games but won't be enough to pull the upset. Pens in 5.

Southside Shultzie – Long time PenguinPoop writer & Pens fan.  Lived for a while in Cleveland but hey, so did Stan Savaran.
Like everyone else I'm going with the Pens winning the series but I'm going to call it a tough, physical series.  The good news is that the Pens have an answer to any style of hockey thrown at them.  Look for some games to be littered with penalties ending in high scoring affairs but also know that Nabokov can be stingy and steal a game if the Islanders can play a disciplined, low scoring game in which they will HAVE to play a perfect 60 minute game.  Even if they manage to play a spotless game they might still need a lucky bounce because both M.A. Fleury and Thomas Voukun are equally capable in shutting down the Islanders in a low scoring tight game.
Look for speedster Michael Grabner to snag turnovers and quickly convert them into points, ESPECIALLY if the Pens insist on making cross-rink or no look drop passes.
John Tavarez is good for a point a game so the Pens will have to keep close eyes on him.
Regardless of the games being quite close or blowouts, I'm calling the Pens in 5.  I'm thinking they match up no matter what the Isle's throw their way.
That's all I've got for now.  LET'S GO PENS!

Doug MacRay  – Penguins fan, started with Mario, PenguinPoop video guy.
It's easy to think the Penguins will run through the playoffs this year with their talent alone. But they have to play the games for a reason. On paper the Pens should win this one easily. From top to bottom our roster is filled with stars and players who can contribute night in and night out. But don't be fooled. The Islanders are coming into the playoffs 6-1-3 in their last ten and know the Penguins' system inside and out. The familiarity between the two teams will make this a tougher series than people expect.
The main concern for the Penguins will be team chemistry and the ability to adapt when they need to. With that I think the Penguins will win the series 4-2.

Joey Wales – PenguinPoop writer & long time Penguins fan – accidentally lived in D.C. for a while – he's back.
The Islanders aren't quite a joke these days. They're more like hockey's pun — still pretty laughable but have just enough substance to need to take them seriously. The Islanders strength lies in their ability to score goals, and they have a dangerous power play. The keys to Pens coming out of this one as quickly as possible are:
Discipline – Stay out of the box and don't give their power play any chances to build momentum.
Rack up the goals early every game and stay on the gas – Yeah, this one sounds obvious, but the Islanders have a pushover of a defense. Rough them up and pour on some goals and the Isles won't be able to recover in time, even if any Pens decide to take a shift off (which I don't see happening this year, even with a comfortable lead). 
Post-season experience – The Pens have been here before. Most of this roster has experienced the spectrum of playoff victory at some level and painful loss, so there isn't much left that could phase them. The Islanders on the other hand, not so much. 
Pens in five.
Coach Bombay
 –
Long time
PenguinPoop writer & Social Media Guru – Season Ticket Holder who started with Mario.
We're pretty healthy right now.  And, with the return of Sid looming and hopefully Orpik not far behind, this team is ready to go.  Remember, this team was kicking some major ass this season.  They went undefeated the entire season of March and did not lose a game in OT or a SO.  But, apparently, that wasn't enough.  Ownership allowed Shero to spend all of that extra cap room to acquire Morrow, Murray, Iginla, and Jokinen…for practically nothing.  Because they want to be here, because they want to win.
This team is built to win the Cup.  But, we've been down this road before.
There's one variable that I really think has been responsible for at least the last two early exits.  Coaching.  Plain and simple we got out-coached.  Bylsma does not like to stray from his plan and adapt to how the other team is playing.  He knows he's really on the hot seat this year, will that added pressure be enough?  If things start looking bad, someone has to pull a '92 players' only meeting.  It won't be Sid.  It will be someone who always tells it like it is like Orpik, or Cooke, maybe Adams who was the PA rep during the lockout…maybe the veteran leadership of Morrow or Iginla.
The pesky Isles won't get the better of our boys this time.  Pens in 6.