Sidney Crosby has been skating in full gear and working out at home.  You can read "They have yet to set a timetable on when Sidney Crosby will return" all over the internet.  It is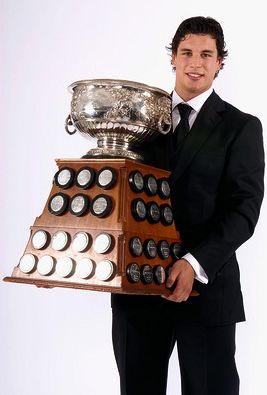 this simple, Crosby doesn't have a concussion, he sets his own timetable.  Penguins Evgeni Malkin appeared out of the blue yesterday afternoon and announced he was playing last night, why not Crosby?  Players have came back sooner from broken jaws, Penguins player Rick Tocchet broke his jaw in the playoffs then engaged in a fight three games later.
Shelley Anderson at the Post-Gazette tweeted "Heard Sidney Crosby feeling pretty good but there just might not be enough healing in broken jaw for him to play before playoffs".  Sometimes things have a way of healing faster when they get in the way of something someone wants. Crosby has admitted several times that he is an extremely competitive person, believe me, he wants the Art Ross Trophy.
Is it selfish to want to win the Art Ross Trophy?  Probably. I had a good laugh when I read that Stephen Stamkos is not concerned with winning the Art Ross Trophy. "If it happens, it happens, If not, it doesn't. It's not something I'm losing sleep over." Stamkos said. I couldn't help but think that either he is lying through his teeth or he doesn't have a competitive bone in his body. If your betting on this, put your money down on the teeth one.
There has also been a lot of talk lately about who is going to win the NHL MVP this year. Is it Crosby, Ovechkin, Stamkos, Tavares, someone else? As a fan, who cares.  Anything that is voted on or judged ranks up there with figure skating or Dancing with the Stars. As a player, if Crosby does care about another award, returning for two games and securing the scoring crown would make it easier for voters.
If Sidney Crosby came right out and said that he was returning this Thursday to face the New Jersey Devils because he wanted to win the Art Ross scoring trophy it should be considered a good thing. It would show that he is honest and it would show that he is extremely competitive.  Two of the best qualities you could ask for in a team Captain, skill is also one you shouldn't overlook.
I must admit I am a tiny bit biased.  As a Pittsburgh fan I would love to have the last four two time winners of the Art Ross Trophy be Sidney Crosby, Evgeni Malkin, Jaromir Jagr and Mario Lemieux. After all winning 14 of the last 24 scoring titles, everyone knows Pittsburgh owns the Trophy the other teams just rent it.
All of that being said, it also really wouldn't hurt for Crosby to shake off the rust before the playoffs start.