With the big win last night the Penguins have Ottawa on the brink of elimination and have afforded themselves the opportunity to get their #1 goalie back into the fold.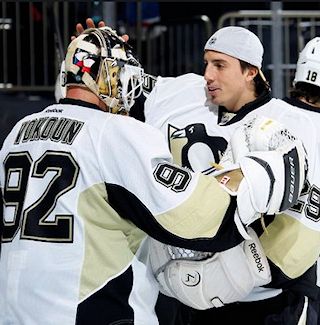 Many will argue that Tomas Vokoun is the hot hand and the Penguins should leave him in net.  On the other side many will argue that Marc-André Fleury has experience under the pressures of Stanley Cup games and that experience will pay off in the long run.  There is no arguing needed to know at 36 years old, Vokoun's limited playoff experience has him already standing in uncharted territory.  If Coach Bylsma plays his cards right, the Penguins can get Fleury back into the mix and hopefully have two good goalies down the stretch.
If you ever wanted to show your kids what good sportsmanship is, watch Fleury. He has temporarily lost his job to Vokoun yet you see him high five Vokoun every chance he gets. Team first.  He stands and cheers, you can tell by his face all he wants is for his team to win, no matter how they do it.  This guy is all heart,  all Pittsburgh, all Penguins.
A good laugh can be had reading an ESPN Insider article by Neil Greenberg who suggests that the "Penguins should punt Fleury".  He goes on to say the Fleury has been milking his Stanley Cup win and has done nothing since.  While Fleury hasn't had the greatest success in the playoffs since then, the Penguins themselves have been decimated by injuries going into each playoff year since then.  This year is the first they've had a semi healthy squad.
A little detective work tells you Greenberg is a Washington Capitals blogger for the Washington Post.  Is he trying to sabotage the Penguins?  Probably.  Is it possible that watching the Capitals all the time he doesn't understand what a starting goaltender is? Probably.
Everyone's opinion about Fleury this playoff year has been based on the one bad game against the Islanders.  Face it, the Penguins defense was a good deal responsible for the loss also, that and a bunch of crazy bounces.  Does Fleury need to play better?  Yes, he does.  Vokoun himself fluttered a little last night, a few that rang off the post could easily have made the game a lot closer.
One thing is for sure, the Penguins do not want to be looking for goaltenders every year like Philadelphia or Washington,  the time is perfect to get Marc-André Fleury back in net.