The Penguins have new lineups for their first and second power plays. The first power play has the same players on it with one small twist. Evgeni Malkin will be on the point and James Neal will be moving up. The interesting thing is the Penguins second powerplay which practiced with Dustin Jeffrey and Paul Martin at point.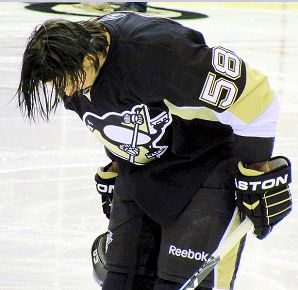 The Penguins have had 8 defensemen on the roster all season.  Do the Penguins seriously not have two defensemen good enough to man the second powerplay let alone the first?
The horrible truth that no one wants to hear is that the Penguins do not have a defenseman that can shoot. Kris Letang who is widely considered the Penguins most offensive defenseman hasn't taken a full slapshot yet this season. Three maybe four half slap shots and the rest of the time he wrists the puck on net. Most troubling is that even though he hasn't taken a full slap shot, he leads the team missing the net on shots.
The Penguins power play is much easier to defend when the defense can't shoot. Malkin at the point will fix much of that problem.  Malkin has played the point for an extended time in the past.  In fact the powerplay put up it's best numbers in the Crosby/Malkin era. The problem as everyone knows is that Malkin is never happy playing point.  That and the fact that the Penguins still don't have a defenseman that can shoot the puck.
Hopefully the future holds something better, three of the Penguins last four first round picks were defensemen. The best scenario would be Letang re-inventing himself with a low hard slap shot.
Empty Net Goals:
In second on the Penguins in missed shots is Malkin.
Kris Letang leads the team and has three times as many giveaways as the next closest defenseman.
Malkin is second on the Penguins in giveaways .
Yes, the Penguins first powerplays defense are the two guys that lead the team in missed shots & giveaways.
From the even scarier file: The Penguins haven't lost a game yet that Tangradi primarily played on Malkins & Neals line.
The forwards on the second powerplay are Kennedy, Sutter & Dupuis.