As he did with two of his previous acquisitions, Ray Shero did not wait for the NHL's trade deadline day to improve the Penguins' roster.  Like both the Chris Kunitz and James Neal deals, Shero acted while the rest of the NHL GMs were busy preparing for the April 3rd trade deadline.  Yesterday, it was the trade for Brenden Morrow while today, he went out and got Doug Murray, the Swedish stay at home defenseman from the San Jose Sharks for two draft picks.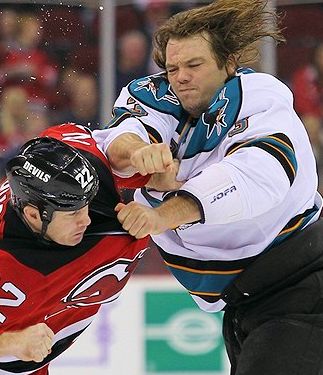 Murray, whose nickname is "The Crankshaft" is listed at 6'3″/240 pounds has been a mainstay of the Sharks defense since he first came into the league in 2006.  He is the kind of defenseman the Penguins have been missing since both Hal Gill and Rob Scuderi left after the Stanley Cup win.  He is a career plus player, and last year was his first season recording under 200 hits.  He became expendable in San Jose as he is in the last year of his contract, and they are currently in a free fall out of the playoffs.  If you've never seen him play, once he parks himself in front of his own net, it is almost impossible to get him out of there, and if an opposing player has set up shop there, Murray usually has no problem clearing him out.
With today's acquisition, Ray Shero is telling both the fans and the rest of the league that this is our year, and we're going for it.  In two trades, he has addressed both of the team's glaring weaknesses: Offensive grit and Defensive toughness.  We have to believe that Trader Ray is not finished yet.  With two new players coming in and none being shipped out, the team is going to be one player over the roster limit, and that will quickly climb to two when Evgeni Malkin returns.  The team now has nine defenseman on its roster.  That's two more than 90% of the teams in the league carry so something will have to be done and done quickly.
The options at Ray's disposal are as follows: 1. Send Simon Despres back to Wilkes-Barre.  2. Try to sneak Robert Bortuzzo through waivers  3. Release Mark Eaton  4. Make another trade for minor leaguers,  draft picks of both.  Robert Bortuzzo would most likely bring the highest return in a trade while Brooks Orpik would free up $3.75 million in salary next year.  Paul Martin would be a tough trade with him still due $5 million for two more years with the salary cap going down almost $8 million next year, and with the year he is having, I can't see that happening.
My guess is that Simon Despres will be sent to Wilkes-Barre in the next day or so just to get the Pens back to the roster limit until Ray is finished working his magic.  It will prevent anything rash from having to be done until he can work out the prefect deal for the organization.  That will get them through until Malkin returns at which time, he should have his next move ready to go.  The next week should be really interesting, but it is awesome to finally see that the GM thinks the team is ready to win it all again.