There's an old saying—idle hands are the devil's workshop. It also applies to the Penguins when they play with a lead.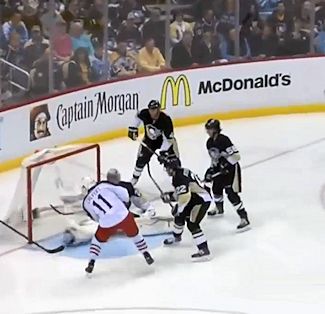 Who knows what evil lurks in the minds of our Pens (and the coaching staff) when they're up by a goal or two? Saturday night's galling Game 2 loss to Columbus in double overtime was a prime example. Early in the second period the Pens were up 3-1 and working on a power-play. They had the game in their collective hip pocket, right?
Wrong. With Evgeni Malkin inexplicably manning the point, the black and gold began yielding shorthanded chances as if they were a paymaster passing out checks on the first of the month. The sloppiness didn't cease until they leaked for a game-turning shorthanded goal by Matt Calvert.
It was all downhill from there. After Columbus tied the game with six minutes remaining on a power-play goal by Jack Johnson, it was a matter of time before the Blue Jackets prevailed. Especially the way they used their superior size (51 hits) to grind the smaller Penguins down.
The game-ending sequence was especially telling. Early in the second overtime Malkin knifed into the Columbus zone with speed, only to peel away from the net without shooting the puck.
Moments later the Blue Jackets gained possession and went straight for the jugular. Calvert spun off a check by Kris Letang and fed Brandon Dubinsky behind the Penguins' cage. The big winger slipped the puck through Rob Scuderi's sliding block attempt to teammate Cam Atkinson. Marc-Andre Fleury made a terrific stop on Atkinson from point-blank range but couldn't control the rebound. With Scuderi hopelessly out of position and Letang and Lee Stempniak literally frozen in place, the ubiquitous Calvert avoided the stick check of Jussi Jokinen and fired home the game winner.
With the exception of Jokinen, who was bowled over behind the net by the much larger Dubinsky, no one attempted to take the body. The Pens either stood around like they were waiting to catch a bus, or they waved at the puck with their sticks. No one made a physical play.
That's because these Penguins are built for speed and little else. They're a puck possession team that isn't big or strong enough to possess the puck.
The lone bright spot was Fleury. Amid the sea of ineptitude which masquerades as team defense he's been cool, focused and fundamentally sound. However, no goalie could stand up to the virtual tidal wave of chances being allowed on a nightly basis.
The Pens had a golden opportunity to go into Columbus with a 2-0 lead. They blew it. With a long series sure to favor the younger, stronger, and hungrier Blue Jackets, the outlook suddenly doesn't look too rosy.
*Be sure to check out Rick Buker's books,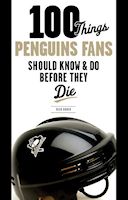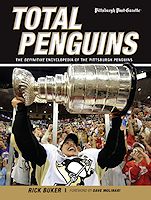 available at TriumphBooks.com, Amazon.com, and BarnesandNoble.com