Inspired by the presence of veteran Martin St. Louis, whose mother passed away the day before, and fueled by a two-goal effort from Derick Brassard, the New York Rangers clobbered the Penguins, 5-1, in Game 5 on Friday night to stave off elimination. Along the way the Rangers snapped an ugly 0-for-36 streak on the power-play with a pair of man-advantage goals.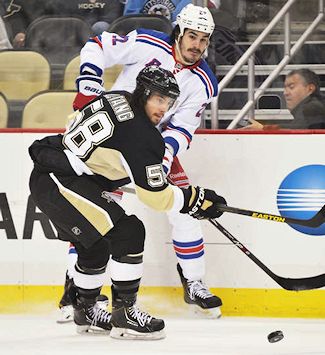 Playing with their backs to the wall, the Rangers skated with an urgency and fire that was lacking earlier in the series. While the Penguins waddled out of the starting gate, the visitors poured 17 first-period shots at Marc-Andre Fleury and grabbed a 2-0 lead on goals by Chris Kreider and Brassard.
"At the start I think we played like a team that looked like we had an automatic bid to the next round," Pens defenseman Rob Scuderi said. "When it's 2-0 right off the bat and you're playing from behind it's not easy."
The momentum shifted early in the second period on a brilliant individual effort by Evgeni Malkin. In a stunning display of strength and skill, No. 71 bulled between defenders Dan Girardi and Marc Staal and snapped off a shot from close range. Henrik Lundqvist sticked the puck aside, but Malkin would not be denied. "Geno" tracked down the rebound and beat the Rangers' goalie from an impossibly sharp angle for his sixth goal of the playoffs.
Suddenly, the black and gold sprang to life. They dominated play for several minutes and had a number of good cracks at Lundqvist (31 saves) while pressing for a tying goal. But Brassard beat Fleury through traffic at 7:58 for his second goal of the game to take the wind out of the Penguins' sails.
Fifty seconds later New York struck for its second power-play goal of the night when Ryan McDonagh blew a routine slap shot past Fleury from the point. Kevin Klein capped off the rout with an empty-netter late in the third period.
"The difference tonight was we moved our feet and played for a full 60 minutes," Brassard said. "The only thing we wanted was to get back to our building, and we accomplished that."
*Be sure to check out Rick Buker's books,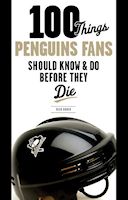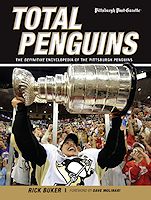 available at TriumphBooks.com, Amazon.com, and BarnesandNoble.com