It's hard to say whether the Penguins have what it takes to win the Stanley Cup. Conventional wisdom says GM Ray Shero has some holes to fill—especially on the third line. While the team's championship pedigree may be in question, its heart and soul are not.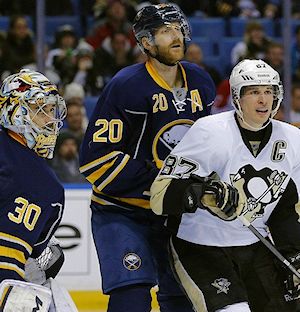 The Penguins displayed plenty of both against a surprisingly spirited Buffalo squad at First Niagara Center on Wednesday night. Employing an aggressive forecheck, Ted Nolan's crew came at the Pens fast and hard. Drew Stafford struck for the opening goal at 5:58, jamming the puck past Marc-Andre Fleury. Feisty Steve Ott belted Harry Zolnierczyk, rendering the speedy winger dazed and confused.
As Zolnierczyk exited to the dressing room, flashbacks of ugly losses to Florida and Dallas came flooding back. Once more the Pens were being tested by a hungry, young team. This time the black and gold answered the bell.
Deryk Engelland immediately challenged Ott, who declined the invitation. By contrast, when mammoth John Scott goaded Deryk at the 12-minute mark, the Pens' utility man didn't flinch. Despite giving away six inches in height and nearly 70 pounds to the Sabres' heavyweight, Engelland hung tough. He ate at least a half-dozen jersey jabs and several hard rights, but landed a few rights of his own.
"Engo" may have lost the battle, but he won the war. Zolnierczyk returned to the ice moments later and banged home a Craig Adams feed from the lip of the crease. "Dirty Harry's" Plexiglas-pounding celebration sent a message loud and clear—the Pens were dialed in.
Indeed, long after superstars Sidney Crosby and Evgeni Malkin worked their magic to open up a 3-1 lead our boys kept battling. Sid tussled with Ott near the end of the second period, igniting a full-blown scrum on the ensuing draw. Rookie Brian Gibbons and James Neal tacked on third-period goals to bury the game but overmatched Sabres.
It was the type of gutsy, 60-minute effort that speaks volumes of a team's character—one worthy of Stanley Cup aspirations.
*Be sure to check out Rick Buker's books,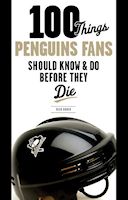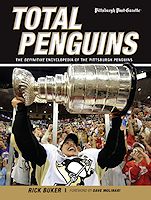 available at TriumphBooks.com, Amazon.com, and BarnesandNoble.com