I'll say this about our Pittsburgh Penguins. They sure know how to make things interesting.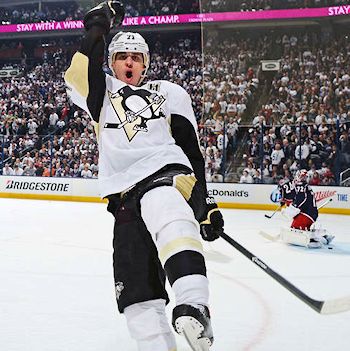 Need proof? Then look no further than Monday night's scintillating 4-3 victory over Columbus in Game 6 to clinch the opening-round series. Paced by Evgeni Malkin's second playoff hat trick and Brandon Sutter's breakaway tally, the high-flying Penguins raced to a four-goal lead. Then it was white-knuckle time, as the Pens barely withstood a furious third-period Blue Jackets rally to prevail.
Entering the contest on a nine-game postseason goalless jag, Malkin quickly made up for lost time. Midway through the first period Geno gathered in a pretty feed from Chris Kunitz and ripped the puck past Sergei Bobrovsky. Four minutes later he struck again, beating his beleaguered countryman with a wrister from the slot for a power-play goal.
"I could see it coming in the morning skate," linemate James Neal said. "His shot was going into the back of the net."
Sutter, a force throughout the series, scored a huge goal to open the second period. Seconds after the black and gold killed off a hooking minor to Lee Stempniak, No. 16 stripped the puck from James Wisniewski at the Pittsburgh blue line and bolted in on Bobrovsky with Stempniak in tow. The rangy center flipped a backhander past the Columbus goalie to stake the Pens to a 3-0 lead. At 15:22 Malkin notched what appeared to be the backbreaker when he beat Bobrovsky on a 2-on-1.
The Penguins seemed to be in complete command until 10:21 of the third period, when Fedor Tyutin scored a shorthanded goal. In rapid-fire succession Artem Anisimov (13:54) and Nick Foligno (15:13) deflected pucks past Marc-Andre Fleury to touch off a barrage from the Nationwide Arena cannon.
"It wasn't easy, seeing 1-2-3 go in like that," said Sidney Crosby, who assisted on Malkin's power-play goal.
Playing without Sutter and Joe Vitale, who left the game with leg injuries, the Penguins scrambled to hold the surging Blue Jackets at bay. With just under two minutes remaining Columbus coach Todd Richards pulled Bobrovsky in favor of an extra attacker. But the Pens closed ranks around Fleury, who made several big stops in the waning moments.
"That was a big win," Crosby said. "Obviously we didn't want to make it as close as we did. But we found a way to win."
*Be sure to check out Rick Buker's books,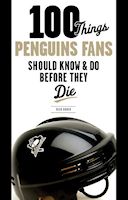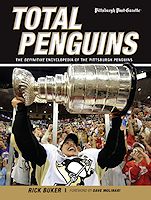 available at TriumphBooks.com, Amazon.com, and BarnesandNoble.com