In the wake of Ray Shero's dismissal in May, Penguins owners Mario Lemieux and Ron Burkle repeatedly stressed the need to add more grit and character to their hockey team.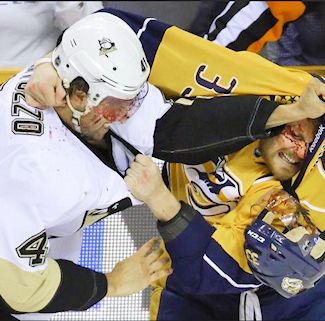 On the first day of free agency new GM Jim Rutherford devised a novel approach for addressing that need. He let the Pens' grit-and-character guys bolt.
In a mass departure unrivaled since the Exodus Deryk Engelland, Tanner Glass, Brooks Orpik, and Joe Vitale exited the Steel City. So, too, went any pretense of shielding superstars Sidney Crosby and Evgeni Malkin from abuse. Indeed, the physical foursome accounted for 674 (or 31%) of the team's 2162 hits in 2013-14 and 15 of its 29 fights.
In fairness to Rutherford, the Pens couldn't afford to keep them. Certainly not at prevailing market rates. But as the team stands now, it leaves Robert Bortuzzo as the oh-so-only Penguin who'll drop the mitts or stick up for a teammate. It also reinforces a deep-seated fear that Rutherford plans to transform the black and gold into a tri-state version of the soft-serve Carolina Hurricanes.
Perhaps restricted free-agent Bobby Farnham will earn a spot. A pocket-version of ex-Pen Jarkko Ruutu, the 5'10" 180-pounder is a fearless agitator who'll tangle with anyone. Brawny Adam Payerl is another candidate for fourth-line duty, although he's not known as a fighter.
A potential solution? Sign former Penguin Ryan Malone. The Pittsburgh native recently was bought out by Tampa Bay following his arrest in April for DUI and cocaine possession. He probably could be had for a song. Provided he cleans up his act "Bugsy's" size, toughness, and scoring pedigree (six 20-goal seasons) make him an intriguing gamble.
Another option is defenseman Tim Gleason, who played for Rutherford in Carolina. Recently bought out by Toronto, Gleason hits, blocks shots and can swap punches with the best of 'em. He, too, might be signed at a rock-bottom price.
*Be sure to check out Rick Buker's books,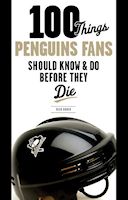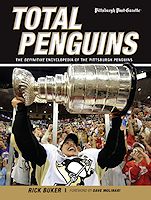 available at TriumphBooks.com, Amazon.com, and BarnesandNoble.com