In the wake of the Penguins' brutal 4-3 overtime loss to Columbus in Game 4, I decided to summarize the team's Jekyll-and-Hyde performance by breaking it down into three categories: The Good, The Bad, and The Ugly.
THE GOOD
— The First Period (or at least the first 11 minutes): The Pens looked fast, crisp and confident as they bolted to a 3-0 lead on goals by Craig Adams, Chris Kunitz, and James Neal.
— Marc-Andre Fleury: For 59 minutes and change "Flower" was superb as he kept the swarming Blue Jackets at bay. But the playoff demons he's worked so hard to suppress sprang forth like a crazed jack-in-the-box at crunch time (see The Ugly).
— The Third Period: The Penguins held Columbus to nine shots and did a decent job of playing playoff-style defense—until the final 22.5 seconds.
THE BAD
— The Second Period: The black and gold barely touched the puck while Columbus peppered Fleury with 18 shots. Lee Stempniak's unfortunate double-minor and a delay of game penalty to Brandon Sutter opened the door for the Blue Jackets and led to a 5-on-3 goal.
— The Two-Headed Monster: Chalk up another O-fer for Sidney Crosby and Evgeni Malkin. Geno picked up an assist, but failed to register a shot on goal. Sid had three shots, but was a minus-2. The Pens need a lot more from the former dynamic duo.
— Faceoffs: Crosby won 16 of 25 draws, but Columbus dominated the faceoff circle (39-29). For a prolonged stretch of the second period the Pens couldn't buy a faceoff win.
— Power Play: The locals were 1-for-4 with the man-advantage. However, when James Wisniewski drew a tripping minor midway through the third period to hand the Penguins a golden opportunity, the power play sputtered.
— Muscle Beach: The bigger, stronger Blue Jackets (51 hits) continued to bully the lightweight Pens.
THE UGLY
— Marc-Andre Fleury: His dreadful puck-handling gaffe in the waning seconds of the third period led to Brandon Dubinsky's game-tying goal. Then, at 2:49 of overtime, he allowed Nick Foligno's game-winner on a knuckling wrister from inside the blue line.
*Be sure to check out Rick Buker's books,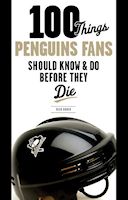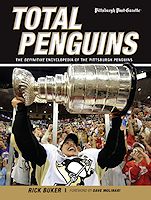 available at TriumphBooks.com, Amazon.com, and BarnesandNoble.com