In the hit movie Forrest Gump, Tom Hanks' character famously uttered the phrase, "Life is like a box chocolates. You never know what you're gonna' get."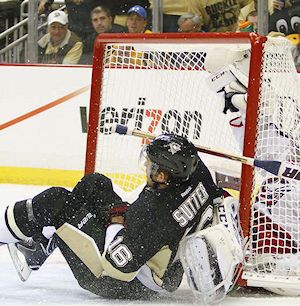 Lately, that saying's reminded me a lot of our Penguins. You truly never know what you're going to get. Take their scintillating 4-3 "gold out" victory over Columbus in Game 1 of the Eastern Conference Quarterfinals. The Pens treated us to a little bit of everything on Wednesday night.
First the bad. Our boys displayed all the intensity of a wet dish rag while yielding two iffy goals during a forgettable first period. Then, trailing 2-1, they leaked for a potentially crushing shorthanded tally by Derek McKenzie just 43 ticks into the second frame.
Was I the only Penguins fan fearing another Marc-Andre Fleury meltdown?
Now for the good. The black and gold rallied to even the score on a pair of power-play goals by Beau Bennett and Matt Niskanen just 45 seconds apart. Brandon Sutter scored a spectacular goal off the rush at 8:18 of the third period thanks to pretty feeds from Bennett and Paul Martin to stake us to a 4-3 lead. Displaying the eye of the tiger, Fleury slammed the door for the final 39:17, including a game-saving stop on Ryan Murray with a minute remaining. Skating in his first game since March 23, Evgeni Malkin notched two big assists.
My favorite play of all came in the waning seconds when Sidney Crosby dove on his belly to clear a loose puck. Talk about leading by example. That's what being a captain's all about.
I know it's only one game. But what a great way to start the postseason.
*Be sure to check out Rick Buker's books,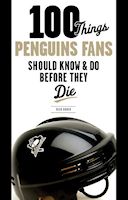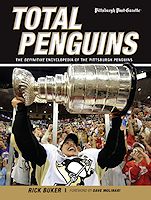 available at TriumphBooks.com, Amazon.com, and BarnesandNoble.com